From Gem Lab to the Sky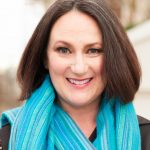 A blend of travel and jewelry careers inspired the purpose of Jewelry Navigator.
I'm a Graduate Gemologist from the Gemological Institute of America. My name is Brenna. I'm Captain of Jewelry Navigator. Welcome!
My degree is in geology, and ever since l could remember, I've loved jewelry, gems and rocks.
In between working in a gem lab and jewelry stores, I enjoyed a hiatus as a flight attendant for a commercial airline.
After meeting my husband and starting our family, I resigned.
Within a few years, I returned to my jewelry roots as an associate in a small independent jewelry store.
With close to twenty years working within the retail jewelry sector, I've found there are trust issues on both sides of the jewelry counter.
I feel sick when shoppers tell me of misleading and disappointing experiences from jewelry stores they thought they could trust.
Even though jewelry is small, it carries big meaning, which needs to be respected and protected.
I saw the need for a guide to connect shoppers to jewelers who foster trust and return the joy to jewelry shopping. So, I started Jewelry Navigator, a guide for your jewelry shopping with independent jewelers and designers.
Combining concepts of a travel theme with my love for jewelry and gemology, I bridge gaps to serve both shopper and jeweler through three components.
First, provide an adequate base of information to make jewelry purchase decisions.


Second, collaborate with jewelers and designers who honor high standards of quality and make jewelry that holds its value for lasting wear, and offer flexible design and delivery conditions.
Third, encourage respect and understanding between both shoppers and jewelers.
Jewelry Navigator is like a GPS for your jewelry search.
Click To Tweet
Thanks for stopping by, and before you go, take a look around!
Brenna
Jewelry Navigator
Join the Crew
Follow our jewelry discoveries, and subscribe for your Jewelry Navigator News and Passport.
*The ring featured in photo gallery at top of page: 7.66 ct zircon and 0.70ct tw, diamond (diamonds are full cut) 14kt yellow gold ring can be purchased from California Girl Jewelry (click the blue text for more details) in San Francisco. I love how they describe the color as "windex blue"! Perfect description for a stunning, and one of our favorite stones!