Get ahead of your holiday shopping list with great deals on unique jewelry gifts during Cyber Week.
Several designers are offering generous discounts and specials on their jewelry, from free shipping, to discounts on select collections and entire sites.
Emily Kuvin Jewelry Design
Celebrate the holidays with a stellar explosion from Emily's Stella Collection, or jewelry from her Classical Collection, a combination of trillion shaped gems and three dot gems.
Not only is Emily offering free shipping through November, but she's also contributing a portion of sales through December 31, 2018 to "Every Town for Gun Safety", a movement dedicated to ending gun violence where we work, live and learn. To learn more, visit everytown.org
Click here to visit Emily Kuvin Jewelry Design.
CRASH Jewelry
CRASH Jewelry is offering 40% off of select pieces of their already reasonably priced jewelry made from luxury cars.
CRASH Jewelry is the perfect gift for men and women who appreciate accessories made with sustainable practices.
The fact that you can wear or gift jewelry made from luxury cars, like Mercedes, Maserati, and Teslas, makes CRASH Jewelry an excellent choice for a unique gift.
Juler's Row
If you love jewelry so much you would decorate your house with it, then check out Juler's Row.
Julie Bishop, jeweler and artist, creates jewelry themed home decor items, like canvas prints, accent pillows, even wallpaper so you can deck your walls with jewels!
Ruler's Row also creates a line of sterling silver and gold vermeil enamel jewelry.
Until December 3, 2018, all Juler's Row items are 25% off.
Use code "CYBER2018" at checkout for the discount.
Julie Lamb Fine Jewelry
Not one to follow the flock, Julie Lamb creates "Ewe"-nique jewelry collections that celebrate the city she works and lives in. Her Be Ewe collection is whimsical, and encourages us to celebrate what makes us unique, using her signature lamb logo.
Julie is an accomplished designer with appealing range and style versatility.
This year, she earned 2nd place in the MJSA Vision Awards in the 1-3 Years in Business category for her "Entrepreneur" ring, a kinetic design, with a bar of diamond baguettes that rock side to side like a see saw, and click into place at its level position.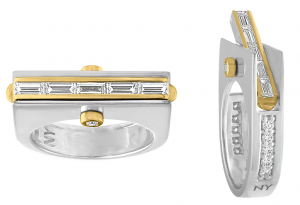 Use code CYBERsheep for 15% off all Julie Lamb Fine Jewelry website until Friday, November 30.
Hania Kuzbari
Hania Kuzbari creates beautiful jewelry influenced by the architecture and colorful culture of her homeland, Syria.
Swirls and arches are common design concepts in her jewelry collections, like Arabesque, Aghabani, and Memoire Levant.
Use the code HKHOLIDAYS for 15% off your entire purchase from Hania Kuzbari Jewelry.
I hope you're able to take advantage of these Cyber Week deals, and as I learn of others, I'll post them on my Instagram feed.
Until then, buckle up for unique jewelry, and remember to put your jewelry on first before assisting others with theirs!