Delicious Jewelry With Nadine Ghosne's Burger Ring
Meet paradise and satisfy cravings for fun and fine jewelry with Nadine Ghosn's Hamburger Ring. -all photos Nadine Ghosn Jewelry
Cute, whimsical, fresh and fine, Nadine Ghosn's jewelry designs are anything but status quo.
Her standards for unique jewelry raise the bar, catching the attention from celebrities, like Beyoncé, Pink, Karl Lagerfeld, Arianna Grande, and trend setter, Nigo.
I've seen Nadine Ghosn's Burger Ring featured a handful of times on Instagram over the past few months, and decided to learn more about the designer behind the delectable ring.
The Universal Language of Food and Jewelry
Ghosn's story is intriguing and inspiring for anyone called to follow their soul's siren song of creativity.
Inspired by her Brazilian-Lebanese background, and global residencies in Paris, Japan, New York, and London, her jewelry lines reflect trends and traditions, through thematic interpretations, with cuisine making the most impact.
This video is from Ashley Haine's interview with Ghosn on September 20, 2017.

A symbol of happy summer gatherings, occasions, and comfort food, Ghosne's burger ring is a series of stackable rings representing the iconic meal.
Using 18kt rose, white and yellow gold, the burger is a combination of six to seven stackable rings, set with diamonds, rubies, tsavorite green garnets, yellow sapphires and champagne diamonds as accents for the lettuce, patty, condiments, and even down to the diamond accents for the sesame seeds on the bun!
She even makes a veggie burger version of the ring!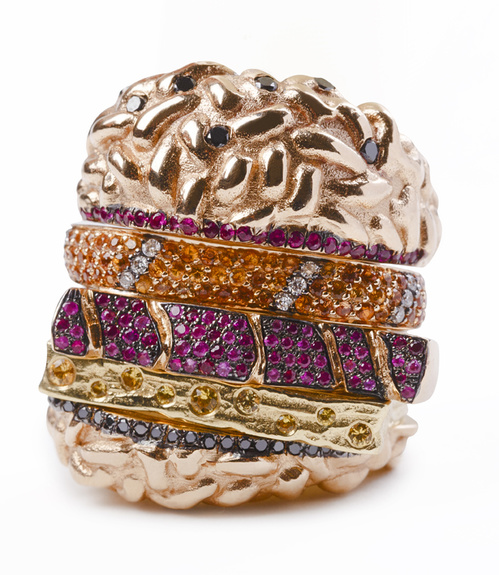 Prices for the Burger Rings start at $7800.
To order up your Hamburger Ring, visit nadineghosnjewelry.com.

To dig deep deeper into her story and jewelry, visit her site, also, see Ashley Haine's featured online story, "Nadine Ghosn and Her Jewelry Designs Are Feeding Our Appetite for Fun" on Hypebae.com from, September 20, 2017,
and "A Visit With the Burger Queen Herself", on  Eat By Chloe.