Episode 22: No Ring Left Behind – Alternatives to Class Rings
Do you still have your class ring? Has it been abandoned in a drawer or jewelry box?
Class rings aren't as popular as they were in the height of their popularity, say in the 1950's through the 1980's.
For decades, graduating from high school and college had been celebrated with a coveted class ring.
West Point Military Academy began the tradition in 1835, and from there, other schools adopted the concept with their own rings.
The first class rings were all metal, or set with gemstones like onyx and carnelian.
Today, many students are choosing to forego class rings.
Some reasons may be cost, lack of interest, or opting for other gifts, like electronics or cash.
Whether you or your student decides to show school pride and celebrate academic merits, graduating from high school and college is a big deal, and worthy to be celebrated with jewelry.
In this podcast and post, I share alternative rings that will hold interest with versatility beyond the year of graduation.
What to Choose for an Alternative Ring to the Class Ring
Before the use of gems as the accent for class rings, most of them were more metal, and in a sort of signet style.
By the late 1800's gemstones like ruby, sapphire and spinel were being lab created, making them affordable options to the natural alternatives.
Spinel is a beautiful natrual gemstone, and forms in all colors, and the lab created versions mimic this feature as well, so thry're a great choice to represent school colors for the gems used in class rings.
But, keep in mind a few durability considerations if you'll be choosing a ring to celebrate a pending graduation:
the hardness of the stone is high enough for frequent wear to withstand scratching and chipping
setting style of the stone
quality and type of metal (alternative metals like titanium and tungsten cannot be sized)
Both corundum (the mineral that forms ruby and sapphire) and spinel have excellent hardness, making them wise choices to set in rings that will be worn on a regular basis.
If you want to keep with the tradition of a gemstone ring, California Girl Jewelry has beautiful rings, and they really know their gems to guide with color and durability interests.
California Girl Jewelry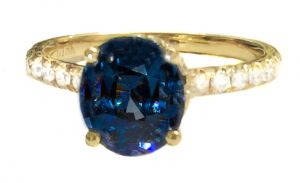 Jill Kathleen Designs
Mimicing lace, Jill Baker Gower creates beautiful rings for all occasions, but would make a lovely alternative class ring.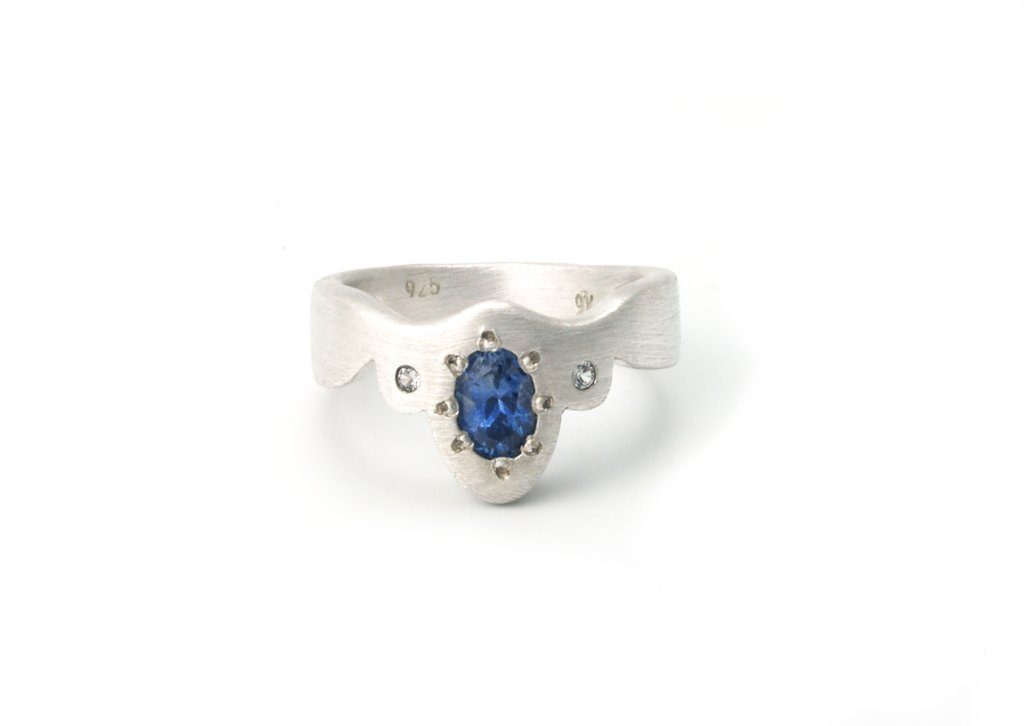 R. Simantov Fine Jewelry
R. Simantov creates unforgettable jewelry, with only the finest gems, like the 10 carat tanzanite set in the ring below –  for a real super star!
Hear more about R. Simantov in Jewelry Navigator Episode 12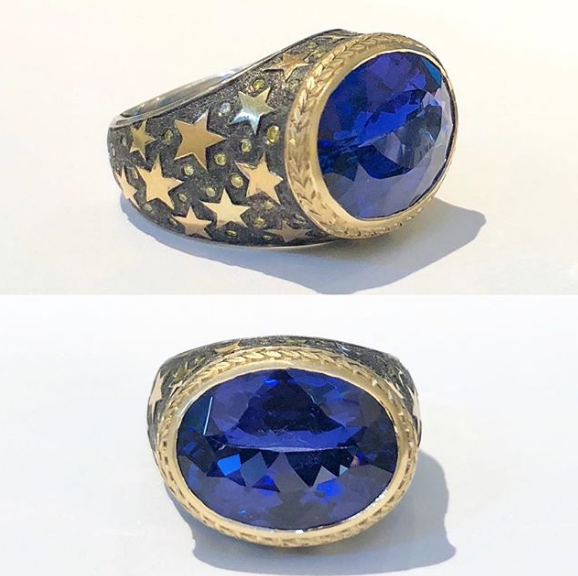 Emily Kuvin Jewelry Design
Whimiscal, but with a twist that shows you mean business to explode onto any new scene or career after graduation, Emily Kuvin's Stella collection makes just the right statement.
DRU. Jewelry
Signet style rings make the perfect option to rings set with gemstones for a college ring.
I've been captivated by Thea Miller's DRU. Jewelry designs, and she has so many fantastic choices, but my favorties are pictured below.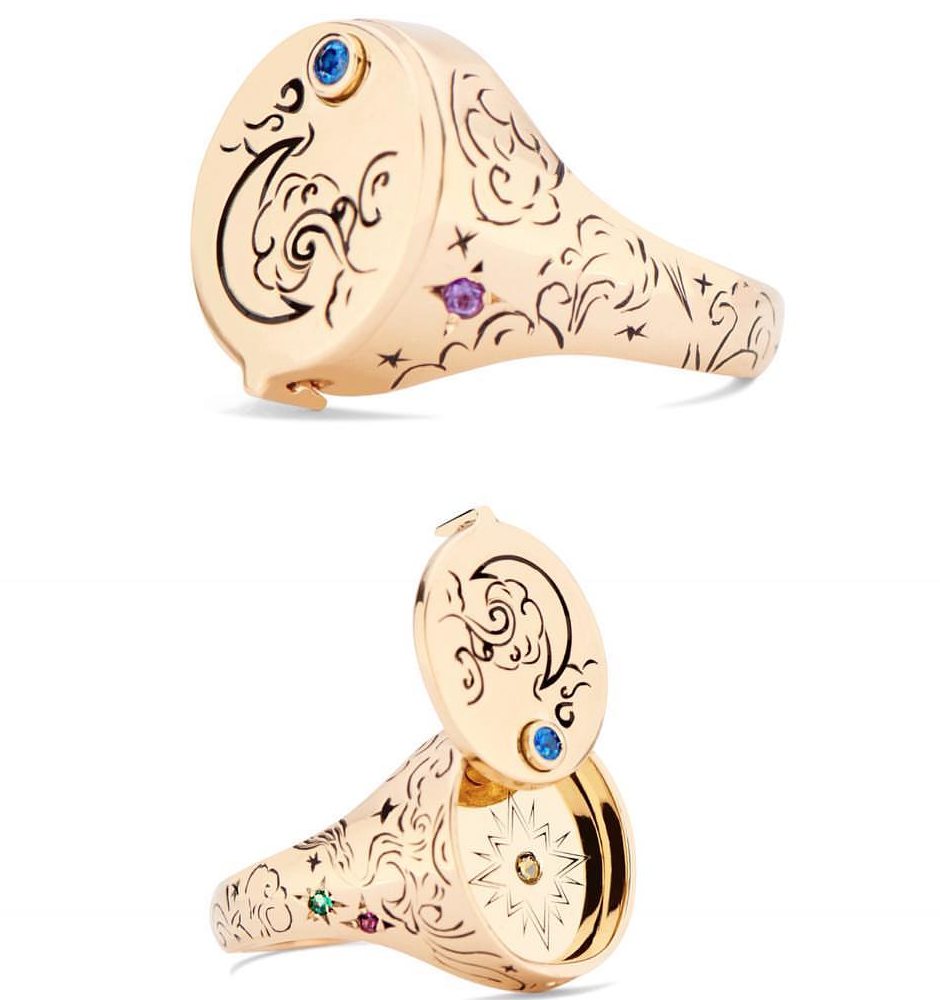 Hugo Kohl Jewelry
I can't say enough to express my excitement for Hugo Kohl jewelry!
If you love estate and vintage style jewelry, you'll appreciate his story and jewelry even more!
To hear his story, which is truly inspiring and intriguing, listen to Jewelry Navigator Podcast episode 16.
With a workshop and museum all in one space, he works with all the same tools one used to create jewelry when the industrial revolution began breathing life into America's industrial economy.
From his workshop in Harrisonburg, VA, Hugo Kohl recreates jewelry once worn by men and women from the late 1800's and early 1900's in America, including beautiful signet style rings, pendants and cufflinks
He even makes beautifully handcrafted money clips and cuff bracelets.
Prices for his signet style jewelry start at $129 in sterling silver for rings.
Rita Jewels
I came across Rita Jewelry while searching for monogram style jewelry, and I love how substantial and classic her designs are!
Click here to shop Rita's Jewels Double Sided Victory Ring
Thesis Gems
What couldn't be more appropriate than celebrating a graduation with what you know is true – not just a thesis – that jewelry means something.
A type of hybrid twist to the classic signet ring, Cate Claus, founder and designer (also a full time practicing pediatrician!), the Sundial Ring points to a bright future!
Set with seven Bridge's tsavorite garnets, with a skirt of micro-pave' diamonds, Thesis Gems Sundail ring is made with 18kt recycled gold.
May Came Home
Inspired by the bright and beautiful discoveries all around us, Debbie Haplerin, creator, jeweler and designer of May Came Home, creates jewelry that pops with color!
May Came Home Jewelry has so many wonderful gift options that are wallet friendly – perfect for buffering college budgets.
Crash Jewelry
Get your graduate a new Ferrari or Maserati for graduation…At least a part of one!
Christi Schimpke, founder, jeweler and designer of Crash Jewelry creates jewelry from parts of mildly damaged sports and luxury cars.
Besides jewelry, she also makes wine bottle stoppers and bottle openers, as well as cuff links.
Prices start at $35.
Minton – Premium Architectural Jewelry
Architect, turned jeweler and jewelry designer, Emily Minton is the engineering genius behind Minton.
What started out as her thesis project is now a line of jewelry inspired by the architect.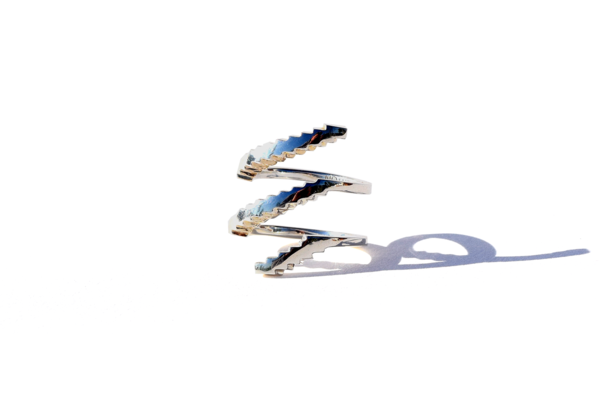 A sprial staricase that wraps arond your finger as a ring, and necklaces, earrings, and bracelets that echo minimalistic, but classic style.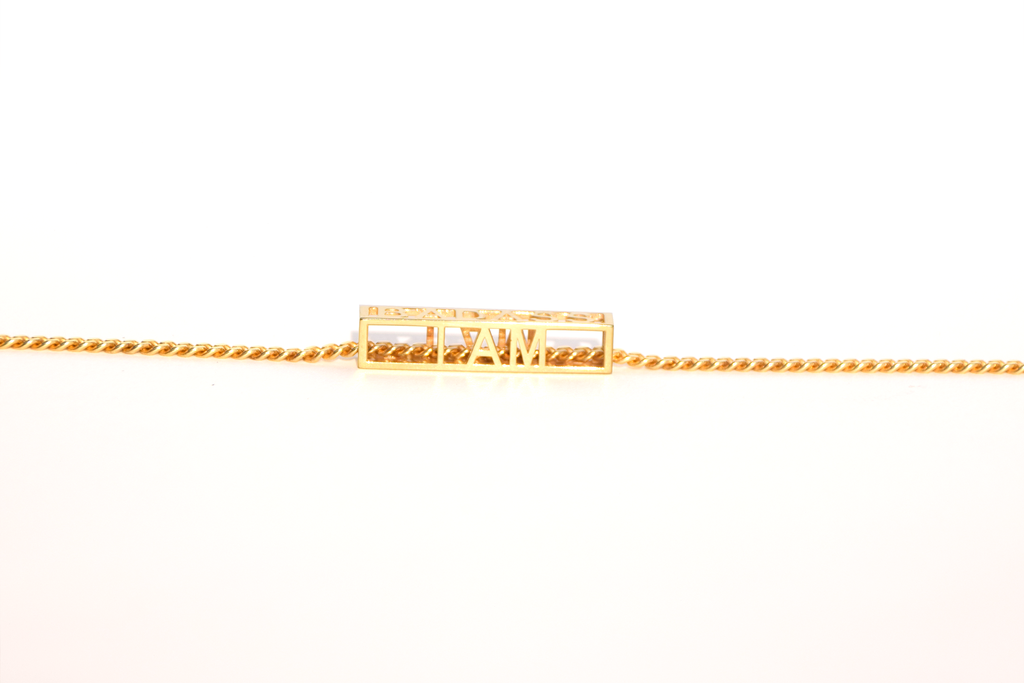 Emily's I AM collection is says it all for a new graduate. With endless possibilities of celebratory epithets to declare your academic success, the necklaces can be custom designed, and also designed as a vertical pendant; prices start at $250.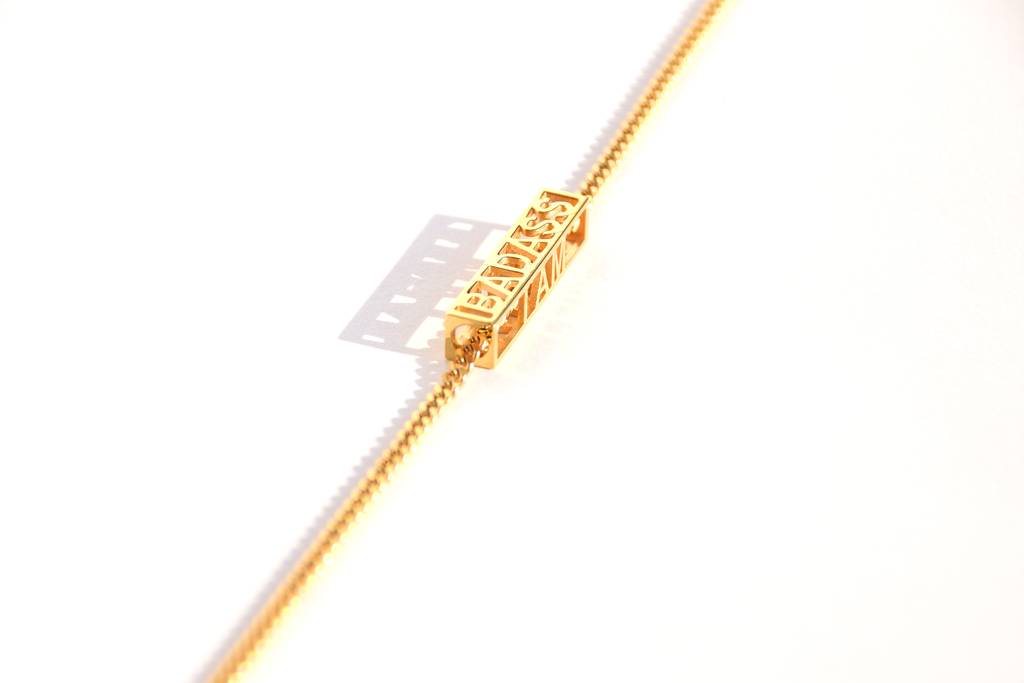 Minton is an exceptional choice for class ring alternatives, or even perfect for to build a jewelry wardrobe with.
I love sharing jewelry to celebrate what makes you unique and special.
Graduating high school or college is one of those life events worth going all out for, and calls for jewelry as tokens to remember our most special life events!
The jewelers and designers featured in this episode are:
*All photos featured in this post are courtesy of the respective designers
For links, photo features of the jewelry mentioned in the episode, please visit the blog post on www.jewelrynavigator.com
Follow Jewelry Navigator on Instagram @jewelrynavigator
Thank you for choosing Jewelry Navigator for your unique jewelry selections, and enjoy the episode!
About Brenna, the Jewelry Navigator
A Graduate Gemologist with a degree in geology, Brenna has worked in the retail sector of jewelry for nearly 15 years.
With a heart for the small business owner and independent designers, Brenna fills the gap between trade show and shopper looking for unique jewelry to define life and experience.
By sharing the missions, stories and creations of artisan and independent jewelers, Jewelry Navigator brings jewelry to the shopping public that may otherwise go undiscovered