This week, we go west for our small business featured jewelry and designer is California Girl Jewelry.
Come back tomorrow for the full story and lots of mind blowing, gorgeous jewelry!
Today is Wedding Wednesday with a teaser from California Girl Jewelry.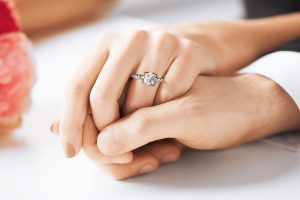 This 1940's, classic style engagement ring is set in platinum, with 1.48 total diamond carat wt.
Its center stone is 1.36ct. Photo by California Girl Jewelry.
Click on the links or photo to be directed to the shopping information.
Follow me on Facebook (Jewelry Navigator),  Instagram @JewelryNavigator, and Twitter @jewelrynavig8r, for frequent updates and features.
FYI
We've featured California Girl Jewelry in these past posts-take a look for a preview of tomorrow's post.