Hoops for High Five Jewelry Fashion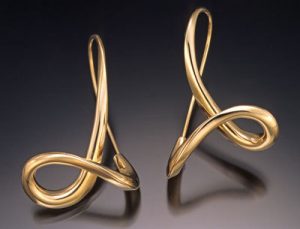 Jerry Scavezze, of Scavezze Goldsmith in Salida, Colorado, specializes in hand forged, anticlastic jewelry.
His line of jewelry is diversified, with earrings, bracelets, rings and necklaces.
made with 14K, 18K, platinum, and sterling silver.
Edgy and Eco Friendly
2 Trick Pony Jewelry is created in a solar powered studio, outside San Francisco with recycled metals.
Jewelry created by 2 Trick Pony is intriguing while affordable.
Diamond and Gemstone Hoop Earrings and Bangles
Want a little more color with your hoop earrings and bracelets?
The addition of colored gemstones or diamonds to hoops and bangle bracelets are appealing and versatile.
The mother-daughter team at California Girl Jewelry, always catch our attention with their beautiful jewelry.
A dangle of color to diamond hoop earrings adds options to wear them with or without the morganite dangles.
Every Day Luxury NYC jewelry is handcrafted in New York with 18kt and 22kt gold and gemstones.
Everyday Luxury NYC will customize jewelry designs, and even use customer's own stones for new pieces.
Besides the hoops and loops featured here, Everyday Luxury NYC is a showcase of unique texture and color combinations.
Rich and warm, the higher karat gold used to make Everyday Luxury NYC's hoop earrings offer enticing options.
Their simple and classic post hoop can be paired with a generous selection of dangle accent selections.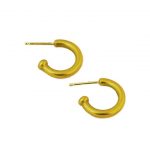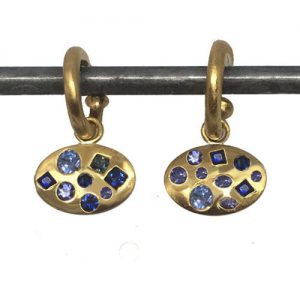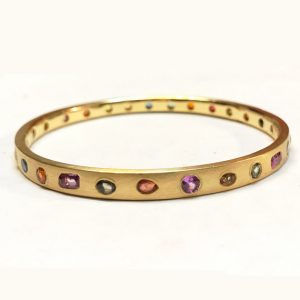 So, which hoops and bangles do you need to bring more game to your jewelry wardrobe?
As an added bonus, here's a helpful video by Christi Schimpke of Crash Jewelry (another creative jewelry artist who we'll feature soon) on how to measure your hand for the right size of bangle bracelet!
Did we miss something? Do you know of a talented designer or jeweler who makes unite and exceptional jewelry?
Please tell us!