How and where to shop for the best jewelry for any occasion all year round, is a valuable skill set to have, but especially for seasonal jewelry gifts, like weddings, anniversaries and graduations.
You want that special jewelry gift to give to a bride or groom, or how about a jewelry gift for a graduate?
With spring and summer as popular wedding seasons, that also means anniversaries!
Shop smart from your heart and your wallet!
Ina Jewelry Navigator Podcast episode (Episode 9, How to Shop for the Best Jewelry Gifts for Any Occasion), I shared jewelry to give as new gifts, along with tips on how to pass along an heirloom piece for a gift.
I also shared:
unique pearl jewelry gifts that are updates to your grandmother's pearl necklace
the difference between fresh and saltwater cultured pearls
jewelry gifts for the guys
affordable options to refurbish old pieces to gift as heirlooms
and lots of unique jewelry designs set with beautiful gems and diamonds, created to celebrate what makes us special to each other from the giver to the recipient
So, if you haven't had a chance to listen yet, head over to iTunes, and subscribe to Jewelry Navigator Podcast There are eight other episodes loaded with jewelry tips and stories!
Just a quick note about me, and why I do this:
I'm a Graduate Gemologist from the Gemological Institute of America, with a degree in geology from the University of Florida.
I've worked in the retail sector, and now as a jewelry consultant through this blog and a podcast.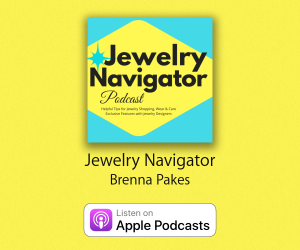 My mission is to connect shoppers to indie jewelers and designers who create beyond commercial boundaries for shoppers who want to distinguish their unique style, and
my passion is sharing the designers who create with unique designs and rare gems for those who want to stand out rather than blend in with the trends.
So, if that all sounds good to you, come with me!
Spring and Summer Jewelry Gift Occasions
Spring and summer invite fun and festive occasions, like weddings, graduations and vacations, and anniversaries.
Since all these celebrations are coming up, and with summer travel is just around the corner, I thought I'd share some shopping tips along with some new jewelry discoveries and some of my favorite designers.
First, some ground rules, with a logistical overview:
Who are you shopping for?
Do you have a budget?
And this usually falls in line with budget, but …
What's the occasion?
Is it super special, or does it call for a congratulatory trinket of appreciation?
Is what you're looking for something that will be worn a lot or occasionally?
Are you drawn to trendy or traditional pieces?
Are you shopping in your hometown, or hoping to find a souvenir to take home from vacation?
Do you want what you choose to have gemstones or diamonds, or both?
Are you looking for a ring, pendant, necklace, earrings or bracelet?
Estate or new?
Ok – I know that's A LOT to think about, but I want you to be able to shop smart with what I'm about to share with you!
Who Are You Shopping For and Why?
Let's start with the who and why – who are you shopping for, and what's the occasion?
Special Occasions this time of year are plentiful – like weddings, graduations, father's day, anniversaries, and vacations all are deserving of mementos of jewelry.
Even though weddings happen all year round, they populate our calendars in spring and summer, and there are LOTS of jewelry that goes along with a wedding, starting with the engagement ring.
I'm not going to go too much into engagement rings right now, but it's definitely worth an entire episode and post, which I'll need to do soon!
For now, let's talk about jewelry gifts for the bride and groom.
If you have a family member getting married, it's a nice tradition to give one more jewelry gift before they go off and start their own families.
Pearls are a classic bridal gift, and there are so many options beyond the classic single strands.
Keeping with our overview of considerations, cost is a factor when it comes to pearls, but shop smart, and you'll be able to keep more cash in your wallet.
The most cost effective strand of pearl gift would be to take your strand of pearls to your jeweler for inspection to tell whether it needs to be restrung.
**photo pearls restinging
A special strand of pearls could be the bride's something borrowed, or something old.
If it doesn't need to be re-strung, you're really in luck, maybe just a gentle cleaning with a soft cloth to shine them up, check the clasp, and they're good to go!
If you do need to have them restrung, depending on how many pearls there are, and whether you decide to have them knot between each one (which is highly advised – if the strand breaks, it keeps the pearls from all coming off the strand), the cost should still be significantly less than a new strand of pearls, and on average, the cost is $3.00 per inch, or between $50-$75 depending on how many pearls.
Don't let pearls confuse you!
Don't let pearls confuse you…many look like the real thing, and it's hard to tell, but I'll explain some today, and do a video to show you more.
Fine jewelry stores sell pearl necklaces strung with either fresh water or saltwater cultured pearls.
It used to be easy to distinguish the two apart, because fresh water pearls were irregularly shaped, but now pearl manufacturers have been able to perfect more rounded pearls grown in the mollusks of the freshwaters of rivers and lakes.
The nacre is thicker on freshwater pearls, but typically, their luster isn't as nice as that of saltwater pearls.
Saltwater pearls are grown in oysters in saltwater environments, and are always more round than fresh water.
The factors that affect cost between the two types of pearls is that with freshwater pearls, they grow faster, more pearls can be produced per mollusk, but the sheen or luster of the freshwater pearl is less appealing than saltwater pearls.
Saltwater pearls, on the other hand, take longer to grow, are more consistently round, and have superior luster to the freshwater pearls.
Now…both are beautiful. Most independent (not chain) jewelry stores can custom create strands for you, and most have several in their showcases,
Base your decision on what you find most appealing, the bride's skin tone and color of her dress, and the same factors can be applied to pearl bracelets and earrings.
For Brides Who Color Outside the Lines of Tradition
For the brides who like Stepping outside the traditional lines – I have a couple designers to tell you about!
Their pearl pieces are unconventional, but beautiful!
creates celestial pearl jewelry.You can read more in GIA's news and research article by Jamie Kautsky, from May 8, 2017, "Designer's Award-Winning Jewelry Helps Reclaim Family History"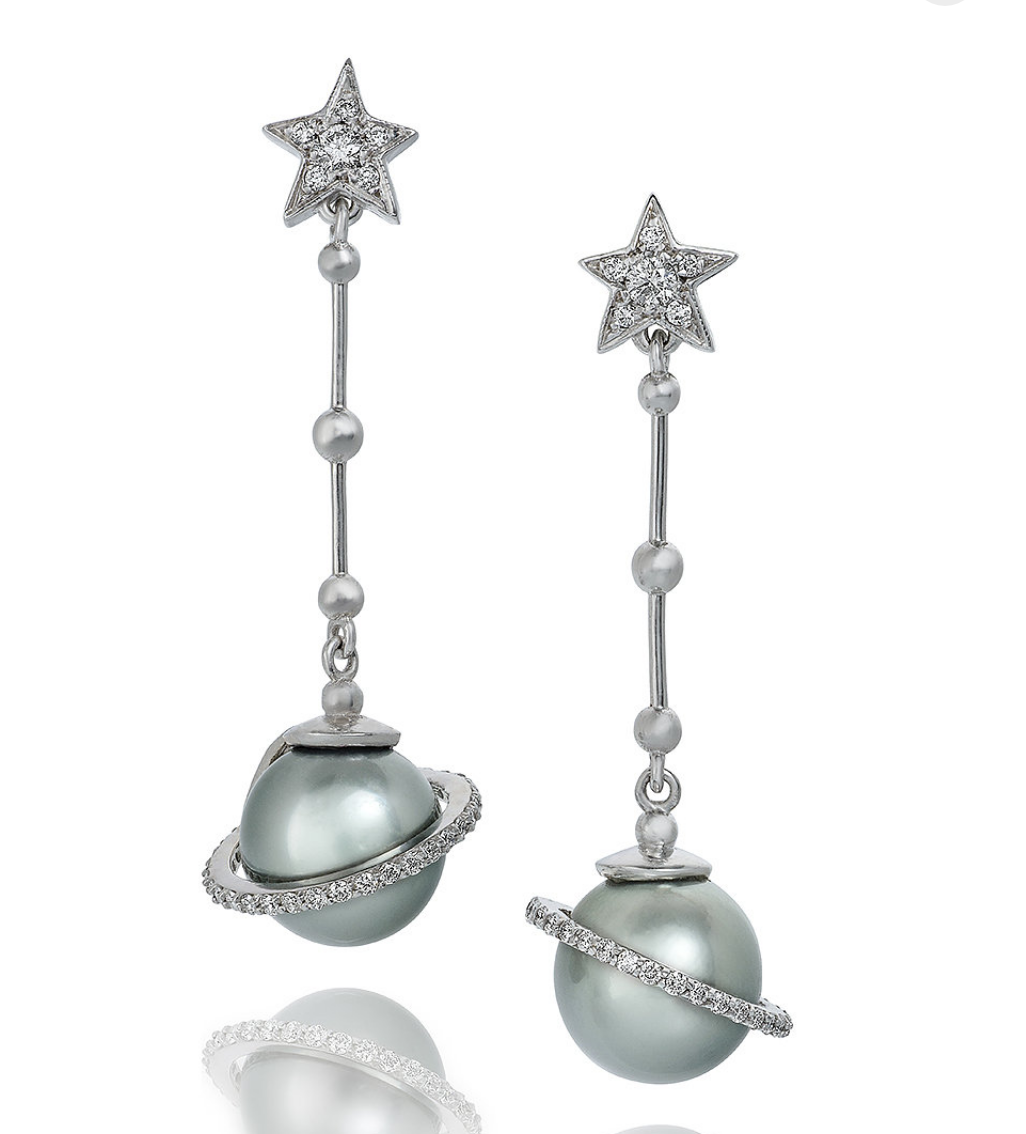 has been experimenting with alternative pearl designs that are beautiful works of art.
A talented artist across multiple mediums, Chi Galatea has broken the sound barrier of jewelry design with pearls.
Opening their world of beauty through carving and adding other gems and design concepts, Galatea (the name of his entire collection) reaches into the past to create for the modern woman through style and function.
One of his collections communicates wirelessly, providing messages and connections to those closest to you.
make a collection of pearls set with diamonds!
The sister power pack of Katherine and Josephine create updates to the pearl bracelet, like with this single 10mm fresh water pearl set with .14ct diamonds!
Jewelry For the Grooms and Guys
Cufflinks have become re-popularized for guys in the past few years, which has opened up wonderful gift opps for them, especially for special occasions, not just for grooms preparing for their wedding day, but for young men graduating.
in LA makes cufflinks from a variety of sports and luxury cars, like Teslas, Porsches and Mercedes.
For dads, Crash Jewelry makes a selection of dog tag style necklaces, with a portion of the sale going to animal charity in LA called the Rescue Train, a non-profit, no-kill organization dedicated to eliminating animal suffering and euthanasia through hands-on rescue work.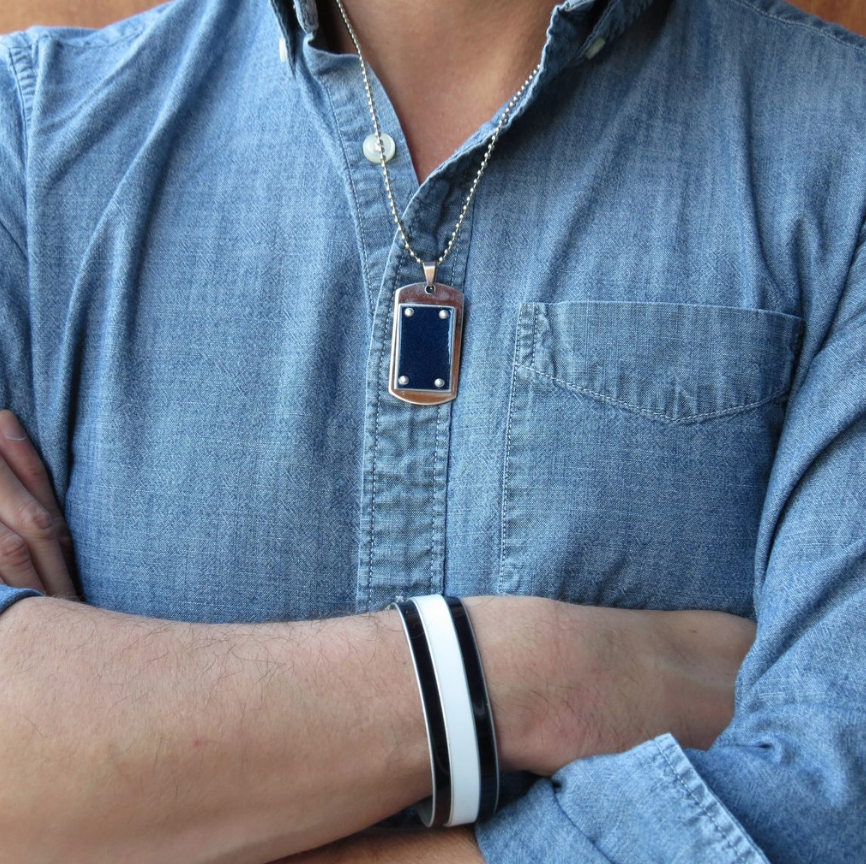 For dads and husbands who are adventurous and likes to arrive in style, all their cuff and bangle style bracelets can made in larger sizes to be worn by men!
makes super hero and Star Wars themed jewelry, and a pretty cool set of Captain America sterling silver and enamel cufflinks,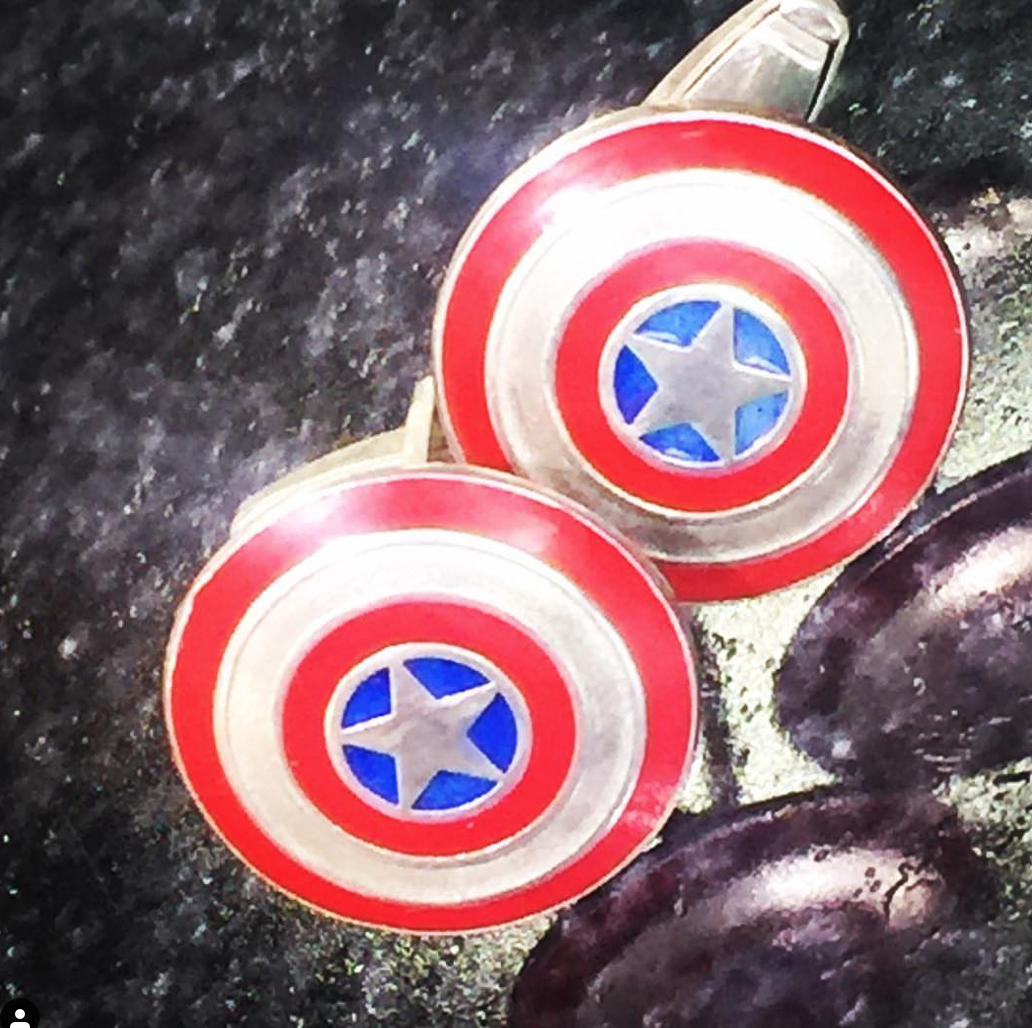 Think About Logistics and Durability
when it comes to selecting jewelry, especially rings and bracelets.
All gemstones have specific characteristics, one being how hard they are, and how well they stand up to scratching and chipping.
Onyx stands up well to frequent wear, and is a great choice for an alternative to a class ring, like this black onyx and diamond ring by California Girl Jewelry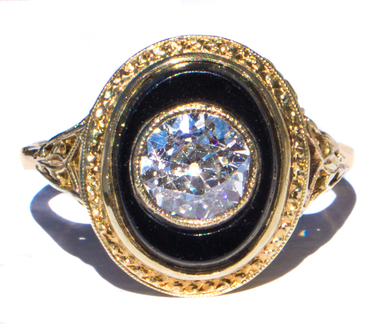 Any gemstone with a hardness over 7 is good to wear in a ring that will be worn a lot, the higher the hardness, the better.
Sapphires, diamonds, spinel and alexandrite have hardnesses over 8, and sapphire, spinel and diamonds come in every color!
Both rings below are spinel – a very beautiful and versatile stone, competing with the popular colors of sapphire, and both are created by California Girl Jewelry.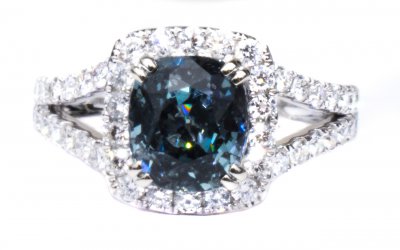 But, the cost of these gems is higher than many of the gems with lower hardnesses, like blue topaz and citrine.
Once again, it's all up to how much you're comfortable spending, and how much wear you think the piece will get.
Estate and vintage jewelry
Estate and vintage jewelry is another category with lots of selection and appeal, and typically can be purchased for a fraction of new jewelry.
AND a lot of jewelry in estate collections aren't necessarily older pieces, they're just been previously loved and worn.
So you may find a contemporary pair of diamond or gemstone earrings in the estate case under the cost of a new pair, as well as an assortment of other pieces with the character from a few to many decades past.
If you like the idea of vintage style jewelry, two designers I featured in last week's Mother's Day Jewelry Shopping Guide, Heavenly Vices and Hugo Kohl jewelry create beautiful vintage and estate inspired jewelry, where aspects of the design are new and will endure a lifetime of wear and love.
Where to Shop
In the past 15-20 years, Etsy has become an online contender of shopping for indie jewelry.
What's even more exciting is finding truly unique designs created by artists who thrive on catering to shoppers who want to stand out from the ordinary commercial selections.
Below are a few of my favorite pieces by artists on Etsy
Marty Bobroskie is owner and creator of the jewelry on her Etsy site, from santa cruz California.
Some pieces you'll find on her Etsy site are
fantasy and nature inspired jewelry, like mermaid, octopus, moon, dragon, frog and snake ear climbers.
Aliens, flying saucers, Godzilla and deep ocean lantern fish pendants are other fun and whimsical designs, hand created and offered by marty magic jewelry on her Etsy site.
I featured Dan Popkie in the second episode of the Mother's Day Jewelry Shopping Guide Podcast, and he's also one of my favorite Etsy jewelry designers.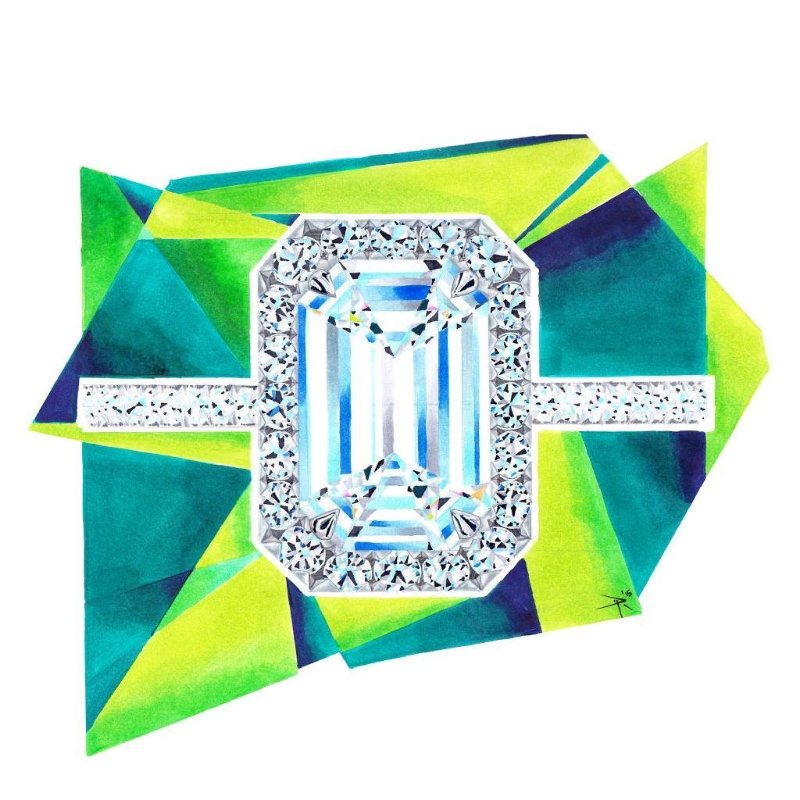 Besides metal work and jewelry, he's also a talented artist in multiple media, like his stylized watercolor renderings of loose gemstones.
His goldfish necklaces are adorable, and such a clever theme for jewelry!
LJD Designs of St. Augustine Florida is also a wonderful Etsy shop with unique and affordable designs.
Designs include classic and contemporary jewelry of lily pads and organic textured earrings and pendants emulating rippled sand, set with diamonds, along with other beautiful jewelry that compliments styles from casual and natural to formal and classic, and her prices start at $69.
Photo by Kara AllysonJewelry defines so much in small pieces, and is created to celebrate the people we treasure and events and occasions important to us.
Where do you go for unique jewelry designs and talented jewelers?
Feel free to leave who your favorite jewelry designers and jewelers are!