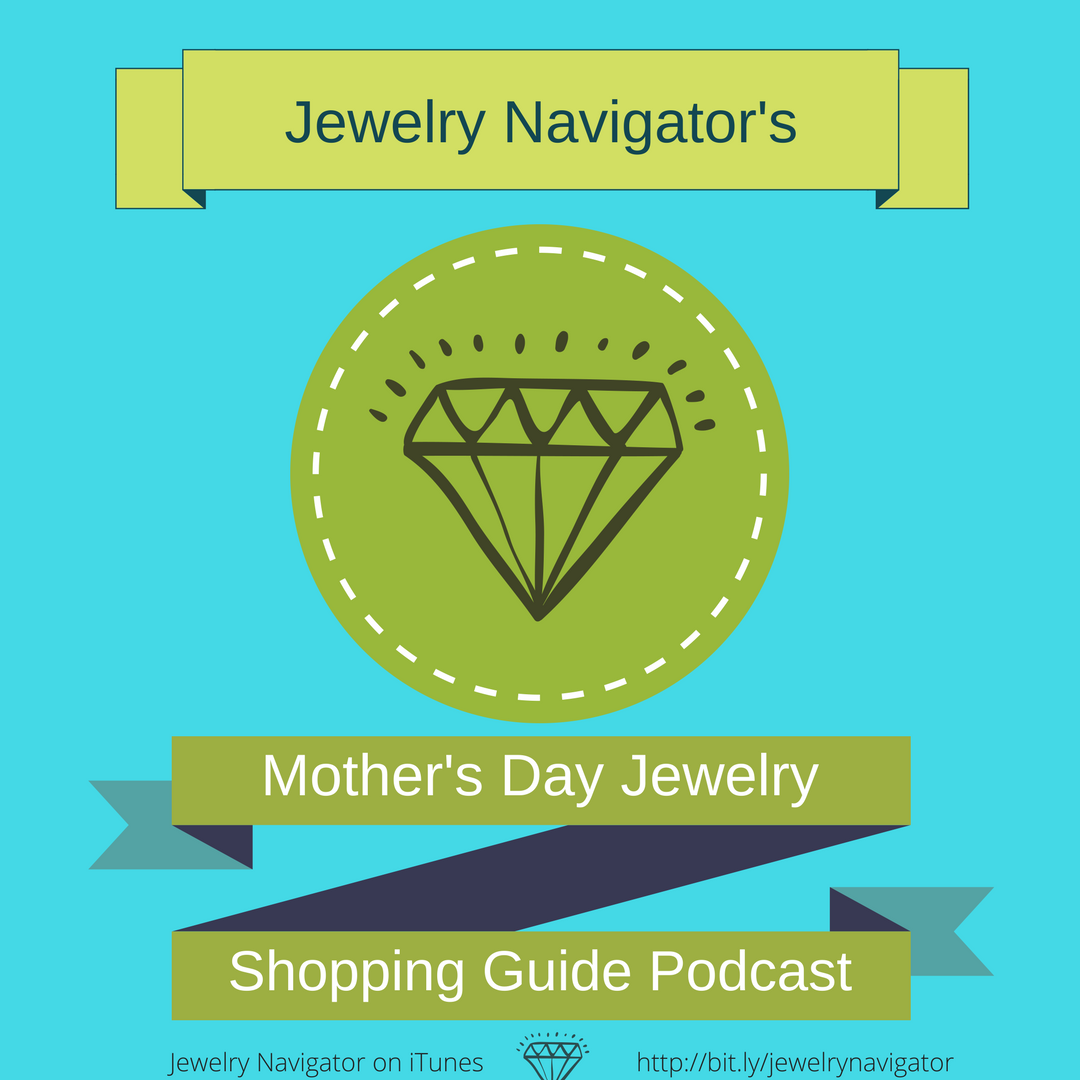 As women and mothers, we wear more hats than you'll see at a ballgame and we deserve lots of love and credit all year round!
Every May, we celebrate moms with brunches made from the little hands of our children and small boxes with bows to unwrap with hidden jewelry treasures inside!
This year's Mother's Day Jewelry Shopping Guide is a tour of talented independent jewelers and designers who I've met or have been following.
They've met my criteria of creating jewelry that's unique while following high standards of customer care.
To follow along with the featured designers and jewelry featured for this post, listen to the accompanying podcast.

Click on the above box, where you can subscribe to the Jewelry Navigator Podcast in iTunes and Podbean.
There are six other episodes, all with helpful tips and interesting stories of jewelry designers who create beyond trends for unique jewelry.

First in our line up, is a source for exceptional jewelry.
Based in San Francisco, Mariel and Denise are a mother-daughter team who set up their exclusive jewelry business because of their love for unique jewelry and rare gemstones.
If you like big, beautiful, color gemstone jewelry, California Girl Jewelry is who you need to shop with!
And, I'm really excited to share that California Girl Jewelry are exclusively offering 15% off Mother's Day jewelry purchases through the podcast and this post through Mother's Day 2018.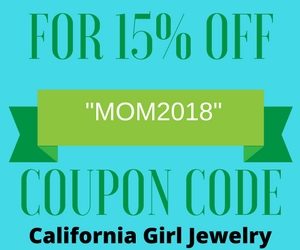 In the podcast, I mentioned two pieces that stand out.
I love these huggie style diamond hoop earrings California Girl Jewelry uses for interchangeable dangle earrings!
The 18kt rose gold hoops are approximately 1″ in length, set with 0.35ct diamond weight, G/VS grade diamonds.
Here is the description from their website on these green tourmaline crystal earrings:
"We handmade 18k rose gold caps to fit these natural tourmalines, cut from long, narrow crystals. The tourmalines are a beautiful color of deep green. The diamond encrusted lever backs complete the stunning design.  These tourmalines can be removed so you can wear the sparkling lever backs alone *and* you can purchase additional color gemstone dangles to wear with the same lever backs."
This next item is a crazy gorgeous ring set with a 12.50 ct yummy pear cut tanzanite, flanked by 0.65ct G/VS quality diamonds, set in an 18kt white gold ring.
One thing I LOVE about California Girl Jewelry is their devotion to educating their customers on the origin and rarity of the gems they use.
The quality of gems, diamonds and metals they use is above most standards, and is a fantastic source for someone special or if you want to invest in unique and unusual gems and jewelry.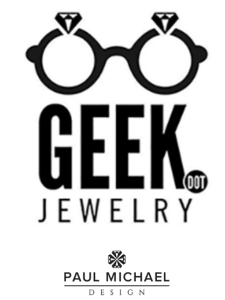 Paul Bierker of Paul Michael Jewelry is truly a Leonardo da Vinci of jewelry and design.
Based in Lawrenceville, PA, outside of Pittsburgh, Paul is an accomplished and innovative jewelry designer who caters to his fan based loyalties of super heroes with theme inspired jewelry.
For Mother's Day, his Wonder Woman rings are the perfect match for all super hero moms.
Besides super hero theme jewelry, Paul also creates an entire line of Star Wars, other super hero and villain theme jewelry, as well as a line devoted to Pokemon inspired designs set with ruby or amethyst with diamonds.
like an R2D2 inspired ring with a halo of sapphires surrounding a center diamond for any princess or queen.

As moms, we drive vehicles versatile in transporting kids and groceries, while also navigating daily commutes and car pooling our kids to all their activities.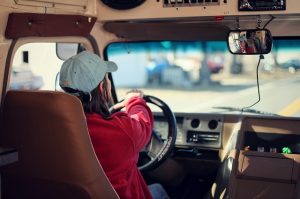 You may not have a fast dream car to speed through town on your errands, but whether you do or not, you can at least wear one!
If you don't know about Crash Jewelry, listen to their story in the third episode of Jewelry Navigator Podcast, "Q & A With Crash Jewelry Founder Christi Schimpke".
Christi Schimpke, jewelry designer and silversmith, is the founder of Crash Jewelry. She makes jewelry from mild damaged parts (like dents and scratches in parking lots) from luxury cars – usually fast ones, like Teslas, Maseratis, Ferraris, Porsches, Bentleys and more.
Statement pieces, like cuff and bangle bracelets, earrings, necklaces, and even cufflinks, Crash Jewelry is an affordable type of luxury and unique jewelry, starting at $45!
Her studio is actually in an auto body shop, where her husband replaces the damaged car parts from his shop location in Los Angeles.
As if that's not cool enough, many of the cars they repair are owned by celebrities and entertainers in LA!
So, just think…not only will you give her jewelry made from a fast and cool car, but it could have belonged to one of your favorite celebrity athletes or entertainers!
You can find Crash Jewelry at crashjewelry.com, as well as in select shops and stores. See their website for locations.
For Mother's Day purchases, there is FREE SHIPPING on all domestic orders!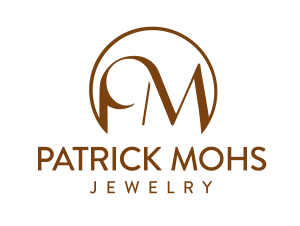 Besides being super hero, and sometimes speed demons, moms love us to the moon and starts!
A perfect selection to celebrate our celestial love for our moms is Patrick Mohs jewelry in Wayzata Minnesota creates a line of zodiac constellation skipping stone jewelry.
Along side their celestial selection of skipping stone jewelry is a line of stacking rings set with fancy color sapphires to represent various birthstone months.
Sapphires are excellent daily wear stones for rings with a hardness only second to diamond at a 9 on the hardness scale.
I featured their skipping stone necklace in a post a few weeks back, and met husband and wife team,  Patrick and Mary Kay Mohs at the Metal and Smith Winter Edit in February.
Their designs are inspired by the landscape influenced by the lake shores and lakes of Minnesota, as well as the star lit night skies.
Recreating the constellations in their skipping stone collection is truly innovative, and since seeing how they purposefully set diamonds that fluoresce into 18kt gold skipping stone pebbles in the form of constellations, I've been a hooked fan!
Prices start at $1750
Each Skipping Stone is set with diamonds that fluoresce (a natural phenomena that only a small percentage of diamonds exhibit).
You can see Patrick and Mary Kay at JB Hudson Jewelers in Minneapolis for their Mother's Day weekend trunk show, Thursday, May 10th – Saturday, May 12th.
Nayla Shami Jewelry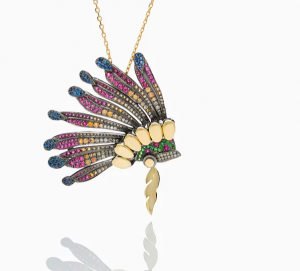 Fighting discouragement and fevers, every mom deserves a  sparkly war bonnet or medal of awesomeness!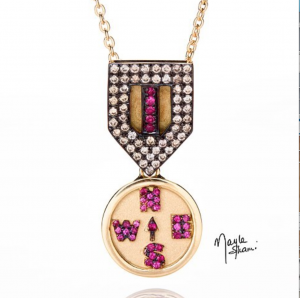 Nayla lives in Lubbock, Texas, but grew up in Lebanon, where she draws inspiration from childhood memories of the Mediterranean seaside.
Although she handcrafts most of her designs from her studio in Texas, she entrusts artisans in Beirut, Lebanon to fabricate some of her pieces.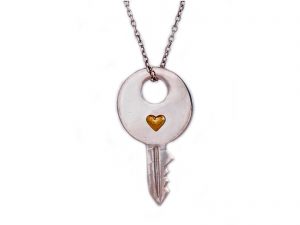 You can find Nayla's jewlery on her website, naylashami.com, as well as in Santa Fe, New Mexico, at Malouf on the Plaza.

I LOVE jewelry SO much, that if I could spread it all over my house, I would!
This next designer, Julie of Juler's Row, (love her play on words and the name of her online shop, Juler's Row!) is a girl after my own heart!
Her innovative jewelry decor items are perfect for anyone on a tight budget who may not be in a position to invest in jewelry at this time, or – GASP…! Already has enough jewelry! (Is that even possible?!)
As I mentioned in the podcast, she makes WALLPAPER!!!! … with GEMSTONES ON IT!!!
Not only wallpaper, but designer throw pillows and wall decor of watercolor prints of loose diamonds, gemstones, estate jewelry, and TIARAS!!! (one of my most favorite accessories!)
Below is her story, and the description of her decor artwork:
"Juler's Row, a collection of jewelry rendering prints, pillows, tote bags, wallpaper & jewelry. My love affair with jewelry started at a very young age and has continued to grow with me.
As a child I was influenced by my mother's eye as an artist and interior designer; growing up surrounded by that passion has inspired my love of all things design.
In March of 2015, after spending three great years working in sales and buying at a high end jeweler I turned my focus to Juler's Row and started collaborated with my mom on our jewelry rendering prints. Having always been a fan of antique bug brooches and their whimsical characteristics, I started working on original designs to be rendered in watercolor. The bugs have led to necklaces, stone layout renderings, ring layouts, diamonds and gemstones. We offer our renderings on pillows, tote bags and wallpaper." -Julers Row, from the website, julersrow.com
As if diamonds and gemstones as wall art isn't enough, Juler's Row also creates a line of sterling silver and gold vermeil over sterling silver enamel jewelry that's comfortably priced.

One of my favorite lines Katherine and Josephine creates is a line of city skyline cuff bracelets of 14kt yellow and rose gold or sterling silver. The skyline detail stands out against a matte finish with oxidized details and diamond "stars".
Started by two sisters, Julie and Carly, create a modern take on jewelry inspired to become this generation's treasured heirlooms with a fresh yet classic feel.
Named for their grandmothers,  Katherine & Josephine who were inspirations for the girls to follow their dreams.
I love how they combine the classic lines of vintage styles with details like milgraining and scroll detail work, like on the bracelet below.
As described from their website, "Scallop Deco bracelet with 7X5mm cushion cut spinel, 1.20ct and two (2) French cut ruby baguettes.  The bracelet features snake chain with cable chain ends and signature K&J star drop. Length 5.75-7.25 inches."
$4,355
All the jewelry above can be found on the perspective designers' sites, and most photos have their site embedded – all you need to do is click a photo!
Thank you for visiting, and listening to the Jewelry Navigator Podcast.  If you haven't subscribed yet you can do that in the iTunes Store the podcast is completely free, and you can also find the podcast on Podbean as well.
I'll be back early next week with more Mother's Day jewelry shopping guide,  and watch my Instagram feed for updates and special offers and discount cards just in time for Mother's Day.