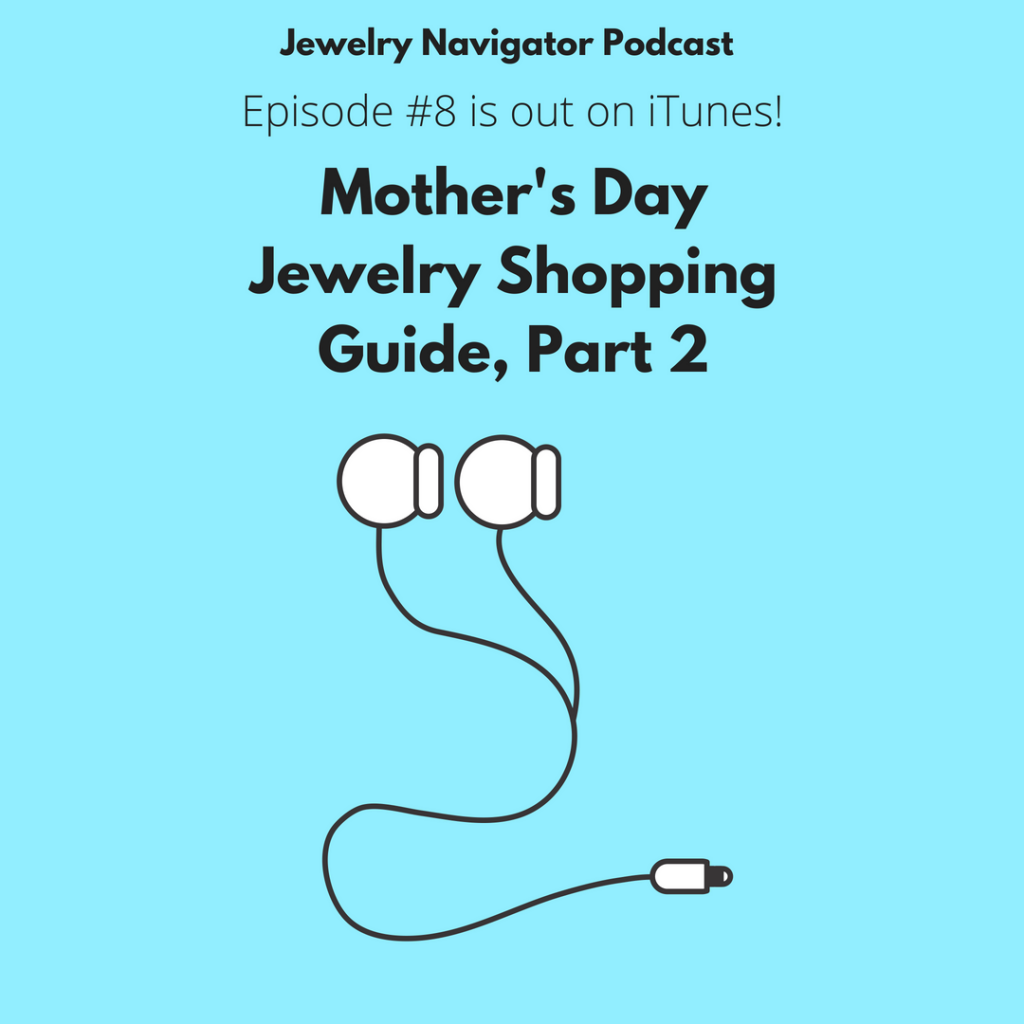 Last week, I introduced you to seven of my favorite designers and their jewelry for a top Mother's Day Shopping guide.
If you didn't get a chance to listen, it's episode #7 of the Jewelry Navigator Podcast on iTunes, and photos can be found in the previous post.
Here's a re-cap of what you'll find in the podcast and post:
From colorful and rare precious gem jewelry at a steal from California Girl Jewelry, sports cars you can wear with Crash Jewelry and gems you can adorn on your wall with artwork and wallpaper, there are wonderful jewelry gift options for every budget, starting around $50.
At the end of the podcast and both blog posts, I share coupon codes and specials.
This is the visual guide to Part 2 of the Shopping Guide.
Take a look around, and there should be links to all the designers' pages for you to browse and shop. Click either the logo in the intro of their story, or their highlighted names in the post.
Enjoy!
I hope you find some great shopping gift ideas for the special moms in your life – and don't forget – these aren't just for Mother's Day! You can file these ideas and designers' jewelry away for any occasion or just because!
Heavenly Vices Fine Jewelry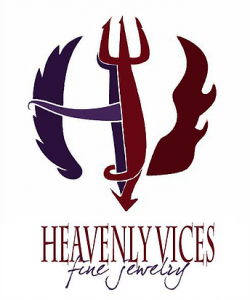 Samantha Jackson, of Heavenly Vices Fine Jewelry, artfully converts sentimental meaning and inspiration, giving new purpose and stories to jewelry inspired by the past.
I met her at the metal and Smith winter edit in February and wrote a blog post where you can see some of her jewelry designs.
I love that her jewelry echoes from a time when compassion and conversation were the only ways we interacted.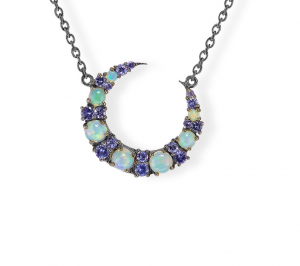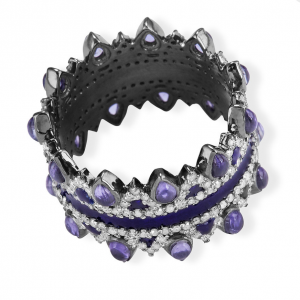 From Heavenly Vice's Rebirth Collection, she creates Love Token necklaces, with diamond and gemstone halos.
I had never seen or heard of a love token.
Samantha explained that love tokens are made from various coins. Rubbed flat on one or both sides, the surfaces were engraved with monograms, significant dates, and sometimes, nick names or personal messages.
Originally from New Orleans, Samantha translates architectural and cultural inspirations into her jewelry designs.
She now resides in Atlanta, where from her studio, she creates Heavenly Vices jewelry.
The amulets of heavenly vices  represent the notion that although we're grounded to our earthly pleasures, our purpose is to reach for heavenly virtues.
With collections like Audubon, Celestial, Garden District, Voodoo, Carvinal and Rebirth, Samantha melds historical and cultural inspirations of New Orleans using gems like tsavorite, tanzanite, pink opal, spinel, beautiful enamel work to translate beauty from the past into new treasures and jewelry heirlooms
You can find Heavenly Vices at heavenlyvices.com, and on Instagram @heavenlyvices.
I also did a post shortly after meeting Samantha, which you can find here.
As moms or anyone who's cared for little people, you know snacks are a mainstay for negotiations with crackers and cookies being portable treats.
One cracker that comes to mind the most are goldfish crackers-they're cute and yummy, and there's a jeweler who makes ones you can wear!
Satin finished sterling silver little gold fish are set with color diamond eyes that sparkle back with the cheerful reminder that everything's ok with a little fun.
Streaming with more fun are his fruit slice jewelry.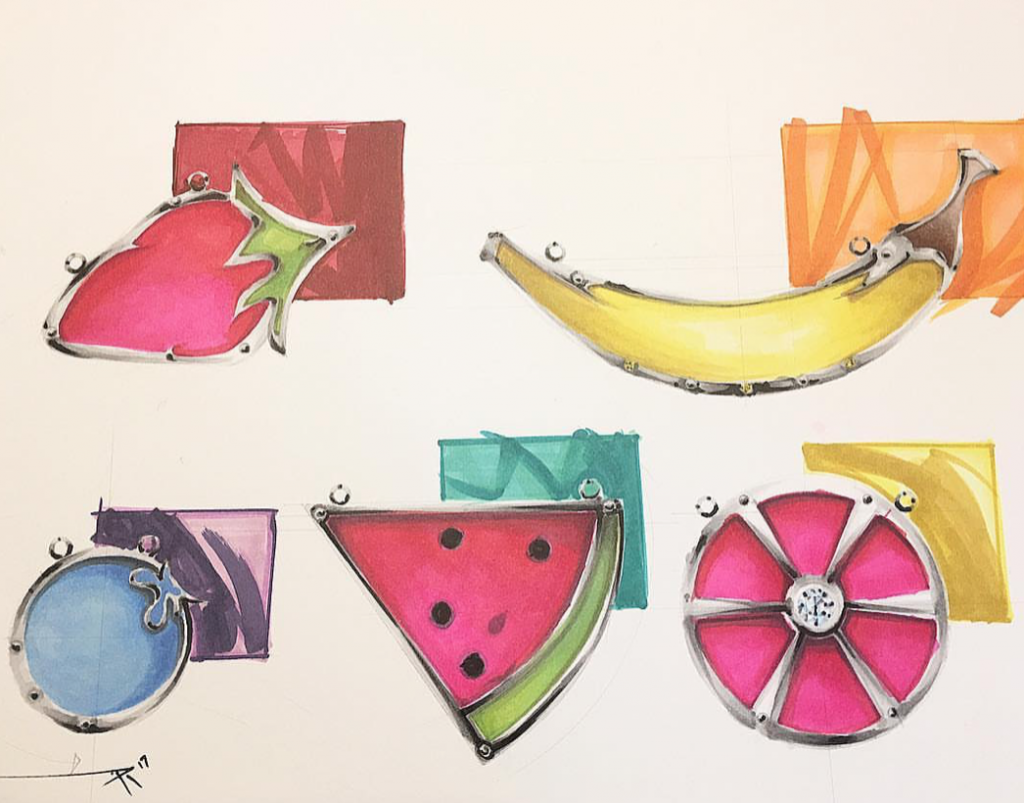 delicious colors from sterling silver cutouts over color infused metal, Dan makes necklaces and bracelets with your favorite fruit slices – some with diamonds, like watermelon can have black diamond "seeds"!
Dan's a talented artist as well, and creates paintings and artwork, not just of jewelry, but of other subjects as well.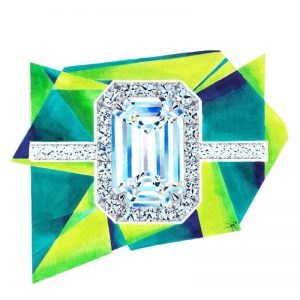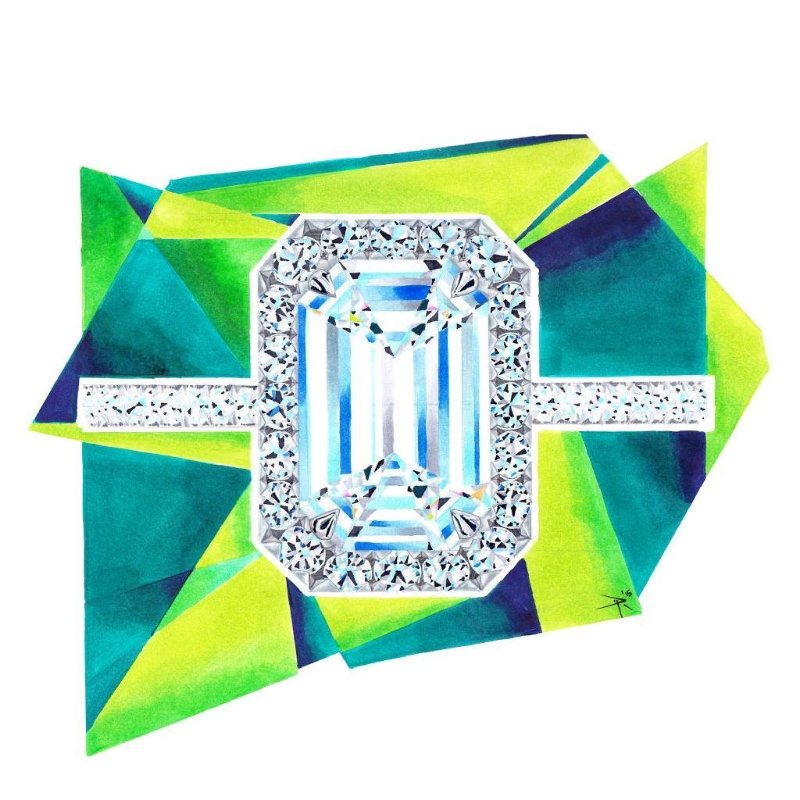 He also custom designs engagement rings and other jewelry.
A Detroit native, Dan took lucky detour from automotive and industrial design to metal smithing from his courses at the College for Creative Studies in Detroit.
With promising talent, and in his senior year, Dan was invited to intern as a metalsmith at Stefani & Co in Keego Harbor, MI
His first job after graduation was with Tiffany & Co, then after three years, his creative path led him to begin building his own business, where he currently lives in LA, but his jewelry can be found on his Etsy store, Cythra and in the Meg C. Gallery in Lexington KY.
His Goldfish necklaces start at $250, and the fruit jewelry at $350.
Besides the snack jewelry, Dan also makes stacking birthstone rings, which make a lovely alternative to the standard mother's rings, and those start at $160 in sterling silver.
When I met Hania Kuzbari at the Metal and Smith Winter Edit, her smile was warm and her eyes sparkled as she welcomed me to her booth.
What impressed me most were the jeweled faces smiling back at me from her "Smile" collection, and when she told me the back story, my heart melted, and I've been a fan and follower since!
Here's what she shares on her website, haniakuzbari.com
"I am often asked the story behind the collection, and here is where it comes from. Despite the cheerful name, the collection was created at the pinnacle of my saddest moment; The Syrian War.
Being Syrian born and raised, I felt the obligation to aid. Amid the tears, and darkness, surrounded by a mound of helplessness and vulnerability, I woke up to an epiphany. My perception shifted, and clouds of darkness broke free, and the rays of the sun gleamed. I felt hopeful, and I smiled. I wanted to share my smile with everyone.
Immediately after, I picked out jewels, arranged them in the shape of a smiley face, and at that moment I knew I was onto something. A message of hope to the world, through my jewelry. And I felt so rewarded when I received a message from a customer saying: "These faces speak to me, and they make me smile". -from Hania Kuzbari's website.
Besides the faces that smile back at you, her other designs echo with cultural influence of beautiful curvilinear designs of middle east styling, set with exotic color combinations of unique gemstones like tourmalines, colored diamonds on 18kt yellow gold.

Hugo Kohl is from a family of artists, and after realizing his passion was for vintage and antique jewelry, he began apprenticing under accomplished goldsmiths and antique specialists in 1987.
Hugo was aware that Providence, Rhode Island was at one time one of the largest and most influential centers for jewelry designs before the turn of the century.
Part of the problem with current day jewelry production is how it's mass produced overseas, leaving limited room to express individuality with jewelry.
Hugo realized this, and followed a tip he read in the travel section of the Washington Post about the Providence Jewelry Museum and its Jewelry District.
He found his way to a jewelry factory warehouse that was disposing of old decorative steel parts by the boxes and buckets.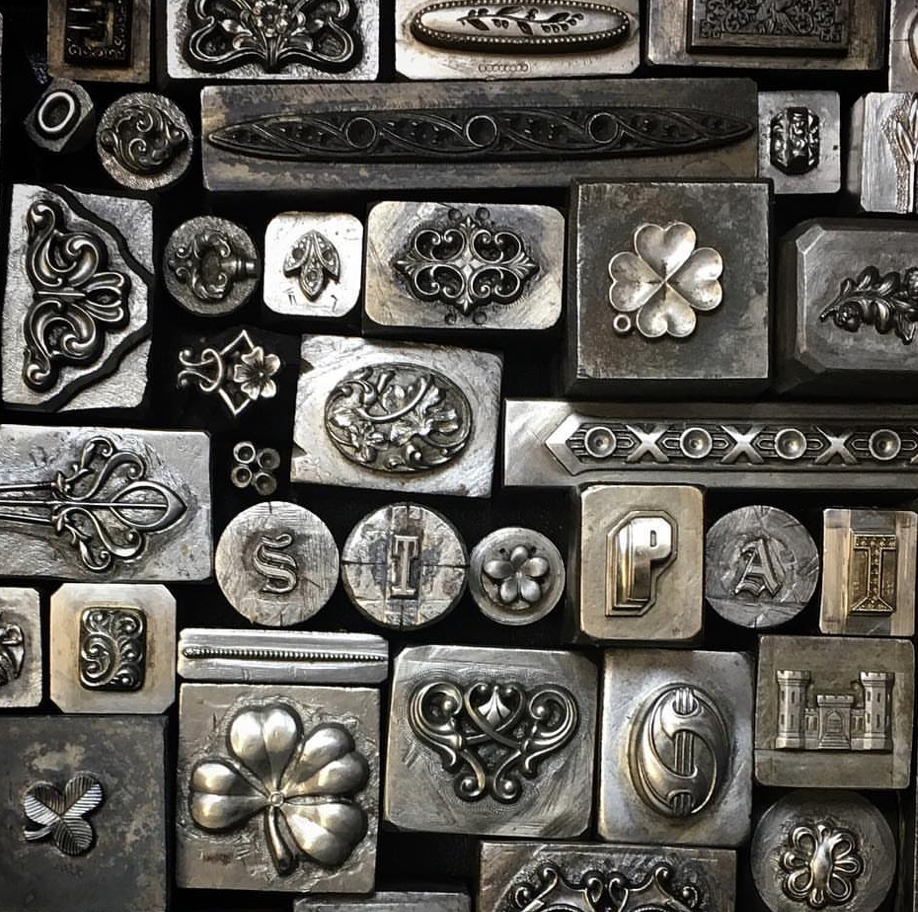 A box happened to spill open, and he realized by their ornate decorative detail that the parts headed to the scrapyard were models and molds for jewelry!
He actually followed the truck to the scrapyard and convinced him to sell him some of the parts!
It would be a few years before he would identify the significance of his finds, and by researching and collaborating with jewelry industry historians and specialists, the parts he had were identified as, in Hugo Kohl's words, "exquisitely crafted "hubs," actual size, three-dimensional, hand-engraved carvings of a piece of jewelry executed in tool steel. Much of which was created in the early 1800's."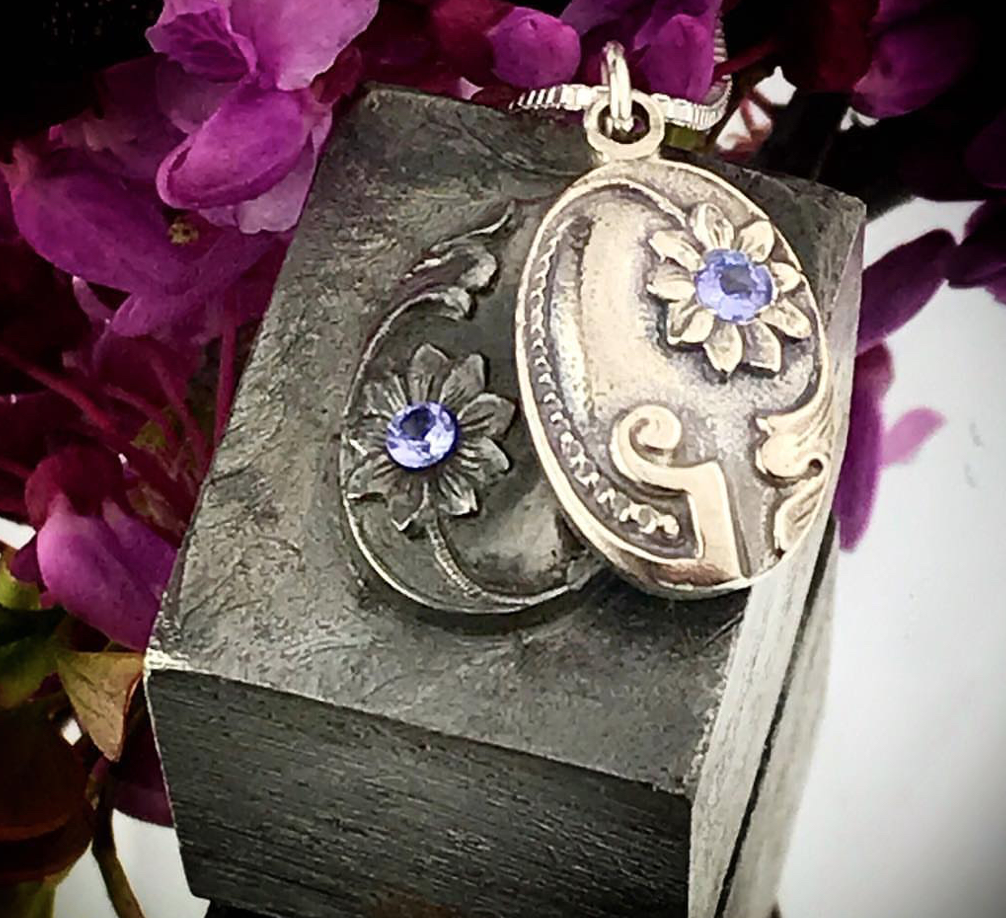 From there, he's collected more original parts and pieces to recreate processes and jewelry from.  a time when expert artistic skills used at a jeweler's bench was the only means of manufacturing, and when jewelry lasted more than a lifetime.
Hugo Kohl's jewelry replicates the ornate engraving and filigree details using the dies, hubs and rolls he's collected.
Bringing the parts together while resurrecting processes and techniques, his jewelry beautifully echoes the jewelry masterfully made in Providence during a time when it was a bustling and busy port of trade.
As the President and Curator of The Museum of American Jewelry Design and Manufacturing, in Harrisonburg, Va. as well as a board member of The Providence Jewelry Museum, he continues to keep his finger on the heartbeat of authentic vintage style jewelry design.
You can read more about his story and see his jewelry at hugokohl.com, under "unearth the story and the scrapyard story"
I love his story, and his jewelry. I especially love the idea for anyone who is intent on having a vintage or antique engagement ring. I understand and appreciate the intrigue and attraction to wearing an antique ring with "history", but I also know that engagement rings have already been worn and loved for several decades, and some may not survive beyond the second time around.
Turning to a jeweler like Hugo Kohl, whose designs are authentic to the original details, is a smart way to wear a vintage inspired engagement ring!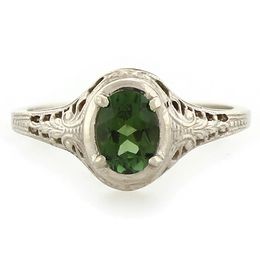 I really look forward to visiting, hope to report back to you soon from a visit to their museum and studio in Harrisonburg, VA!
I hope you've enjoyed this guided tour and sampling of some of my favorite designers and their jewelry.
Jewelry represents special people and memories we hold dearest in our lives, and as a small token, it's easily transported with us wherever we go – a concept recently reiterated by Becky Stone of Diamonds in the Library!
As promised…coupon codes and specials!
All three of these designers were featured in last week's podcast and blog post:
California Girl Jewelry is offering 15% off for Mother's Day on their gemstone and diamond jewelry with code, MOM2018.
Crash Jewelry is offering 10% off AND free domestic shipping, with code, MOM10 for jewelry created from parts of cosmetic damaged luxury and sports cars, like Mercedes, Porsche, Maserati, and more.
Geek.Jewelry, and Paul Michael Jewelry is offering 20% off through midnight, May 11.
Want more jewelry tips and tours?
Subscribe to the Jewelry Navigator Passport for updates on the latest podcast releases and jewelry arrivals.
You can subscribe below, or in the sidebar to the right, is a box you can click which will take you to the form to apply for your Jewelry Navigator Passport!
Thank you so much for reading and learning about these talented jewelers and designers.
They represent artistic means to interpret what's most precious to us with jewelry that's unique and not found anywhere else!
'Til next time, buckle your clasps and check your safety catches!