Like a true Renaissance artist, Reubin Simantov is resurrecting the art of jewelry making, as he says in his own words.
Before speaking with Reubin, all I knew or R. Simantov Fine Jewelry was that it captured my attention every time I'd see one of his spectacular creations come through my Instagram feed.
Wanting to know more about the inspiration behind his jeweled creations that ranged from classical, to whimsical to an elegant dark side, I reached out through an Instagram DM.
Simantov divides his time between his workshop in New York City, and his seasonal  studio location on Nantucket.
Because we're within the first few weeks of summer, I knew he would become busy, and was thrilled when he accepted my invitation for a phone conversation.
To hear more about his story, who he creates for, and his inspiration, subscribe to Jewelry Navigator Podcast in the iTunes Store, or on Podbean. , or click here.
The photos speak for themselves, but listen to the podcast to hear his story on the go.
(*all photos are from R. Simantov's Instagram feed)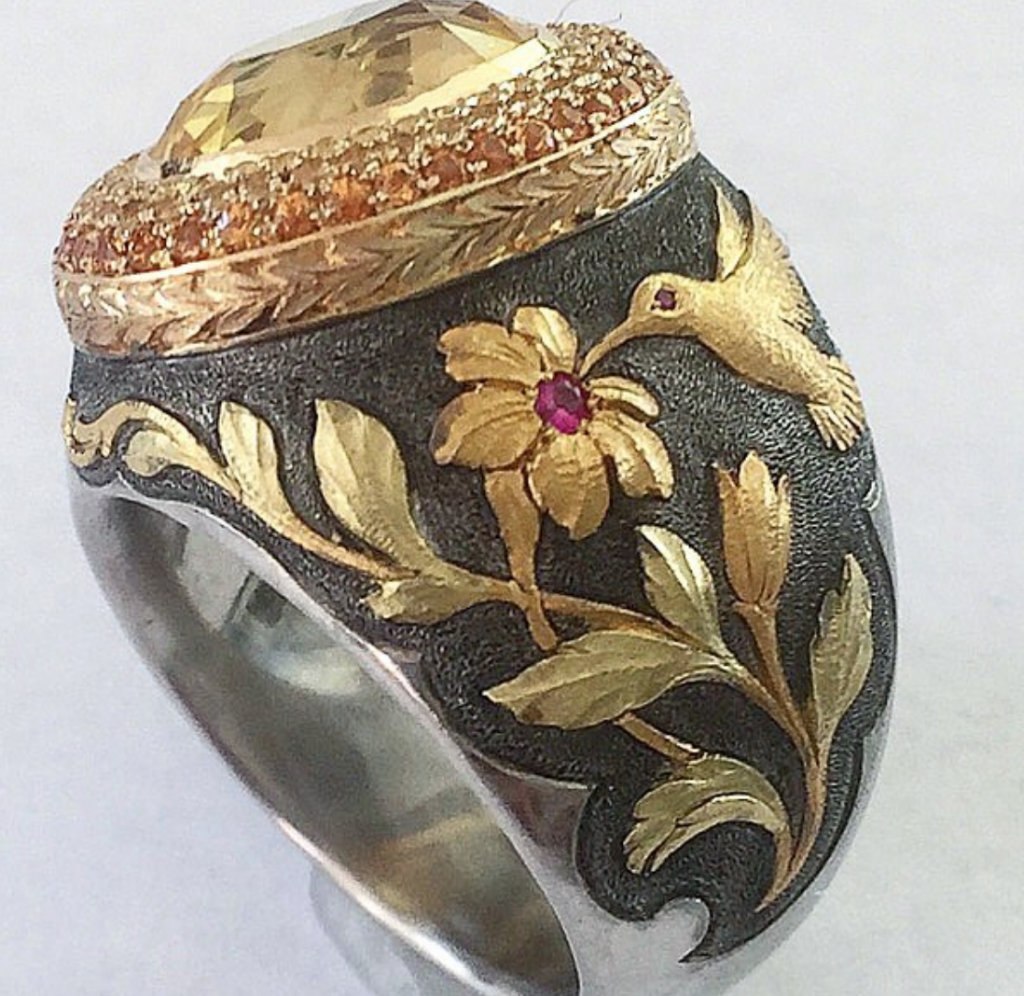 The Octopus and Seahorse Ring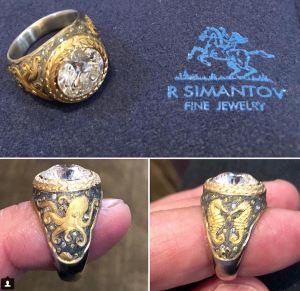 This ring is the happy home to a 24kt gold octopus and sea horse couple, inlaid and hand engraved into palladium, a member of the platinum group of noble metals.
The sea creatures create a beautiful contrast to the white, five carat diamond, chosen to celebrate a couple's 50th wedding anniversary.
The sea creatures happily swim among canary and white diamond melee as bubbles, making the scene even more enchanting.
A Honey of a Yellow Sapphire Ring
Inspired by Nature, Created With Contrast
Classic Inspirations
The Zeus and Dionysus ring inspired me to refresh my Greek mythology.
Dionysus and Zeus, and Hera, the original evil step mother.
As the myth goes, Dionysus was the son of Zeus and a mortal woman, Semele with whom Zeus had an affair, and had impregnated.
Hera,  Zeus' wife, jealous and vengeful, convinced the mortal woman that upon their next meeting, to request that Zeus reveal himself to her, and upon granting her request, Semele killed instantly, succumbing to the overwhelming presence of a god.
Upon her death, Zeus rescued the fetus from Semele, and sewed it into his thigh until the baby was born. (super weird!)
Dionysus was raised to appreciate then to the culture and importance of wine.
Known to bring mirth and happiness to everyone around him, Dionysus represents the joys experienced with wine, but when angered or provoked, he could be volatile, symbolizing the duality of wine's intoxicating character.
I love how Simantov and his team of jewelry artists chose this juicy rubellite tourmaline to be the focus of this impressive ring inspired by Greek Mythology.
I feel the hot pink symbolizes the passion and frailty of the human condition, along with life's events with which we celebrate with wine and drink.
The cool contrast of the palladium with the hot pink could be seen as the stability and strength of an immortal god against the vulnerability of human limitations.
Ok, this is beginning to sound like a thesis presentation; but it's part of what is so enticing about Simantov's creations and designs.
The exceptional material combinations, along with the details are what make his jewelry so provocative.
The Bird Brooch That Flies
I was so excited to find this bird brooch in R. Simantov's Instagram feed, because he tells its story in the podcast.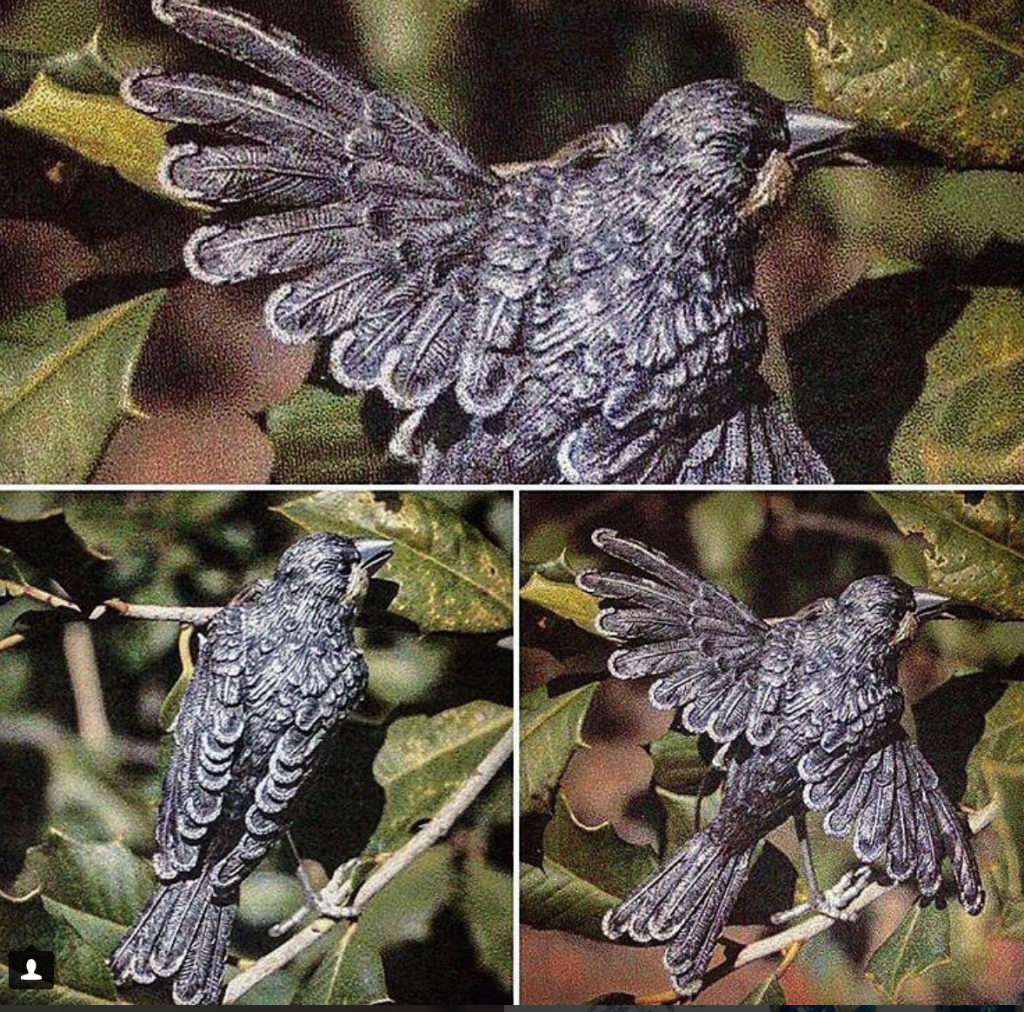 When Reubin described this bird brooch to me, I was entranced!
Hearing how the mechanics came together on the inside to make this creation so life like on the outside is an amazing feat of design.
Black Panther Ring
When Ruebin mentioned that he and his team have a dark side, it was hard to believe, especially when looking at the bright gems and themes of his jewelry.
But, when I went back and looked at his Instagram feed, I found what he meant.
Forming from violent conditions, volcanic obsidian glass is usually dark gray, and is the perfect material for this menacing black panther ring.
The big cat's collar is studded with alternating rubies and diamonds, with the rubies' culets (the pointy bottom of a round cut stone) pointing outwards, making the creature even more threatening.
Bright and Ready for a Party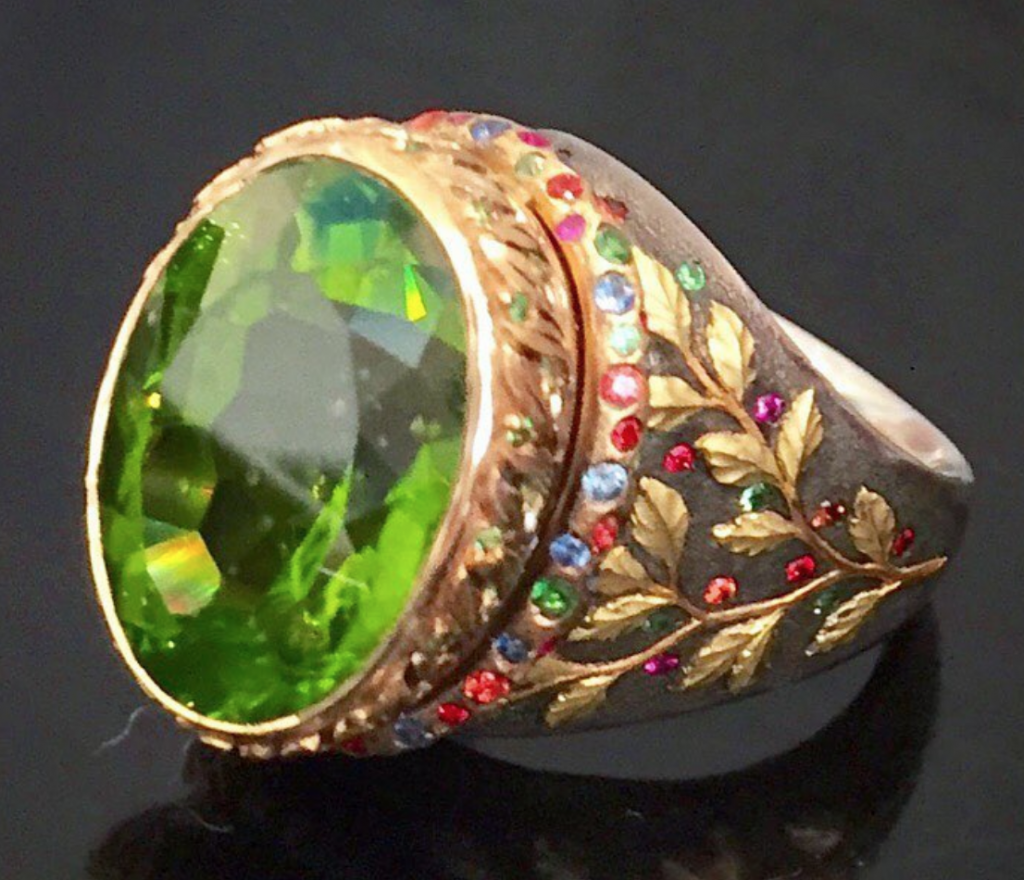 Horse Intaglio Brooch
This piece is proof of R. Simantov's museum worthy jewelry, because it's actually IN a museum – the Headley-Whitney Museum in Lexington Kentucky.
An intaglio is an almost lost method of embellishing flat or nearly flat cabochon stones with engraved images or scenes. (opposite of the cameo, which is relief work where the contrasting image is raised above the base layer or material)
Reubin commissions artists whose specialty is creating high quaintly and detailed intaglios.
A Garden of Treasures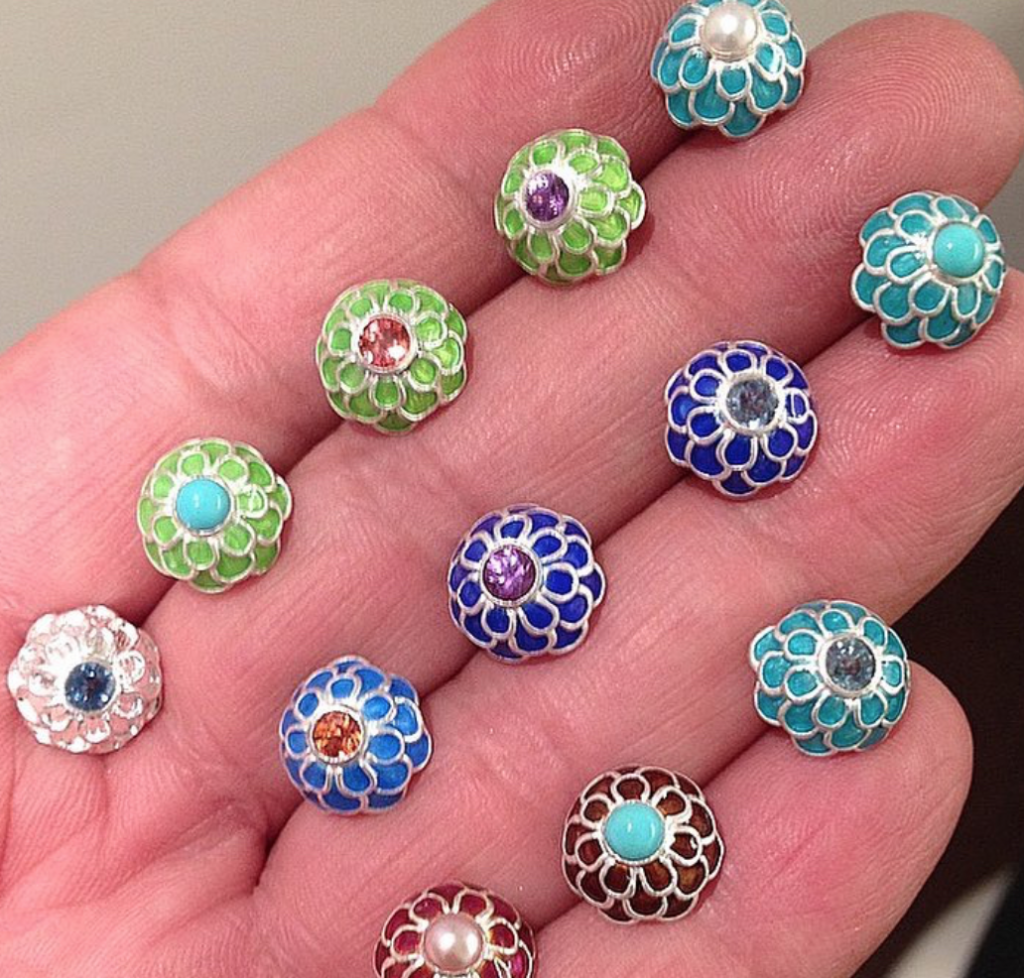 As Reubin described on the podcast, several conditions need to be present for a successful enamel process – the metals being enameled must have the correct combination of alloys, and temperatures need to be just right.
I'm so grateful for the opportunity to have visited with Reubin of R. Simantov.
I've admired his jewelry for many months, and am so glad I reached out to tell his story.
His Nantucket studio is at
14 EASY STREET, NANTUCKET, MA 02554
I hope I can fit in a visit this summer!
If you're inspired by Reubin's story here, be sure to listen to the podcast, and if you're near Nantucket – I'm jealous! Go say hello!