A Quick Tour of Jewelry Navigator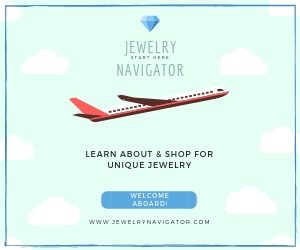 Looking for jewelry that won't look like everyone else's?
Want jewelry to show you're unique and different, or to shopping for someone special?
If so, you're in the right place!
Welcome to Jewelry Navigator
Listen to and read the latest stories about designers, gems and jewelry care on the podcast, and or blog.
Jewelry Navigator Podcast is published on iTunes, Podbean, Spotify, and Google Play Music.
With each podcast, I publish a coordinating blog with photos of jewelry, gems, and designers featured in the podcast.
Whether you like to read or listen, there's a way for you to learn about unique jewelry you won't find in conventional commercial stores.
A shop option for all the fabulous jewelry featured on the podcast and blog is coming soon!
Questions About Gems or Jewelry?
My name is Brenna Pakes. I guess you could say I'm the captain and crew of Jewelry Navigator!
I'm here with both the podcast and blog to help you find jewelry you'll be excited to wear and gift, so please reach out to me on email, or any of the social media hangouts.