This is the accompanying post to the podcast on Jewelry Navigator Podcast of the same name as this post, The Eclectic Story and Designs of Wade and Willow Hand Forged Jewelry with Kiara Boughner, which you can hear on iTunes, Spotify or Google Play.
(Featured photo is Kiara Boughner, founder and jeweler of Wade and Willow Jewelry – photo – Kiara Boughner, Wade and Willow Jewelry)
Wade and Willow Jewelry – Inspired by Nature
Dragonflies captured in eternal flight, set with opals, a trident pitchfork set with sleeping beauty turquoise and Australian opal, and a twin set of snakes guarding a cluster of amethyst crystals are just a few of the classically inspired jewelry designs created by Kiara Boughner (pronounced Bonner) of Wade and Willow Hand Forged Jewelry.
On her Instagram feed, she often posts videos and photo carousels showing the steps of a design's progress, from stone selection, to fabrication, to a beautiful piece, tucked in a lovely velvet box.
I followed along for a few months, then by March, 2018, after I started the Jewelry Navigator Podcast, I knew I wanted to feature designers like Wade and Willow.
The Creative Apples Didn't Fall Far From Kiara's Family Tree
Kiara's story is even more exceptional because of her creative background.
You can hear all about it in the podcast, where she shared with me how growing up in a family of artistically creative and talented parents and sibling helped form her appreciation and observation of design and creativity.
Her mother was a performing arts and music teacher, in the school Kiara attended, and was her instructor for some of her classes.
Kiara's father worked in special effects departments in Hollywood, so being surrounded by creepy costumes and film monsters was the norm for her and her sister growing up. (How cool is that?!)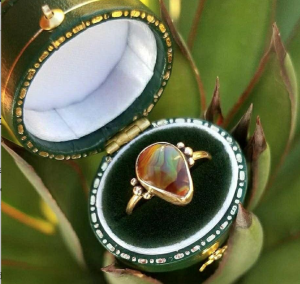 As a hobby, her father was a rock hound, and she and her dad would attend rock and mineral club meetings, and go on gem hunting excursions together.
As Kiara's interest in gems and jewelry grew, her father taught her the fundamentals of lapidary (gem cutting) skills, metal smithing, and jewelry fabrication.
Now, between her husband, father and herself, they lead gem hunting expeditions early in the morning to beat the desert heat, returning to their studio to recover rough gems that are used in many of the jewelry creations she makes.
Her husband is taking over the lapidary duties, and they've started a separate Instagram feed devoted to Wade and Willow Stones.
Kiara's sister is a recording artist and musician, and has had the opportunity to showcase Wade and Willow Jewelry in many of the publicity shoots as the featured vocal artist for the 2018 NBA finals.
A Model and Role Model
Kiara is also a fashion model, and before launching Wade and Willow, and starting their family, was active in a modeling career for plus size clothes.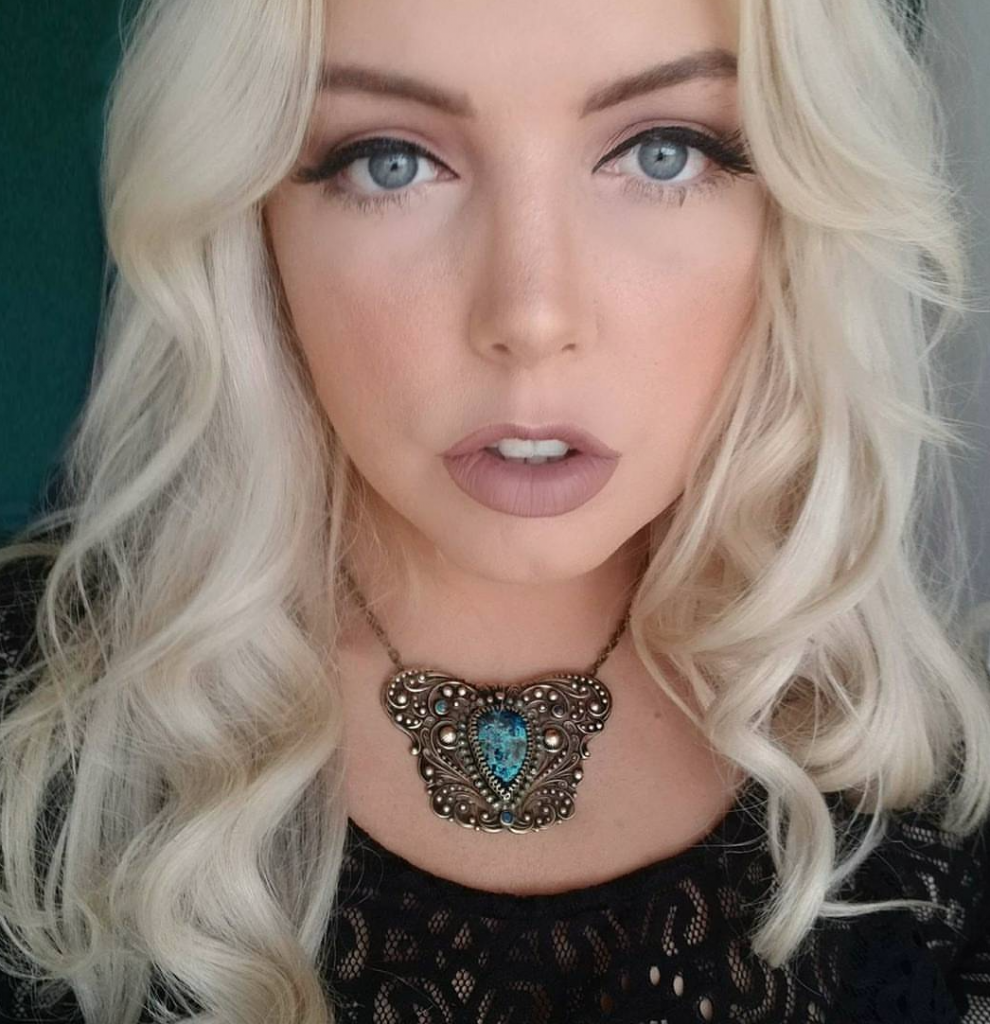 Through her career and influence, she's an advocate for positive body image, and continues to participate in photo shoots for exclusive lines of clothing, and often incorporates Wade and Willow jewelry in the photos.
The Stories Jewelry Tells
I love jewelry, but I really enjoy sharing the stories of the creators who make it.
As jewelry shares the stories of who and what is important to us, I feel knowing about its creation, and who made it makes its story even more enduring.
Kiara's story is one of exceptional creative history, with so much more to come.
You can find her jewelry on her website, Wade and Willow, wadeandwillow.com, as well as on her Instagram feed, @wade_and_willow_jewelry.
By the way, the Wade in Wade and Willow is their adorable son, Wade, and Willow is the name for a possible future baby girl!
I so enjoyed visiting with Kiara. She's charming, humble, but driven, and seamlessly fits her jewelry career between loving and caring for her family.
She inspires me to share her story for those of us striving to honor our creative drive while still being present for our families, and teaching the next generation how to integrate the things most important to us.
To hear her story on Jewelry Navigator Podcast, click the Podcast link to the left.
You can hear her story, along with other jewelry podcasts filled with helpful shopping tips and jewelry stories on the Jewelry Navigator Podcast, available on iTunes, Spotify, and Google Play.
[bctt tweet="Stay tuned…! In the next episode of Jewelry Navigator Podcast, I'll be announcing how you can win a bag of jewels just in time for back to school!" username="jewelrynavi8r"]