You know the scene:
You're expectantly waiting for the signature small box that holds the jewelry treasure you're praying for.
There's a sea of wrapping paper, and everyone's jubilantly thanking each other and Santa for their gifts.
After waiting through the obligatory time of suspense, you're presented with the box containing your jeweled gift!
Your new jewelry needs to be kept somewhere safe with all your other jewelry treasures.
If you need a treasure keeper, even if just a place to stow your rings while cooking, take a look at the treasure keepers below!
A malachite gem box for your jewled treasures!
By JB Krystal Art on Etsy, $45
Length: 2.5 Inches
Width: 1.9 Inches
Height: 1.2 Inches
Walnut jewelry box by J and C Workshop on Etsy. $180
Click the link above for more details of the jewelry box – it's drawers are cleverly designed, and all their items are made in Tionesta, PA
Measures
Length: 7.75 Inches
Width: 5.75 Inches
Height: 15 Inches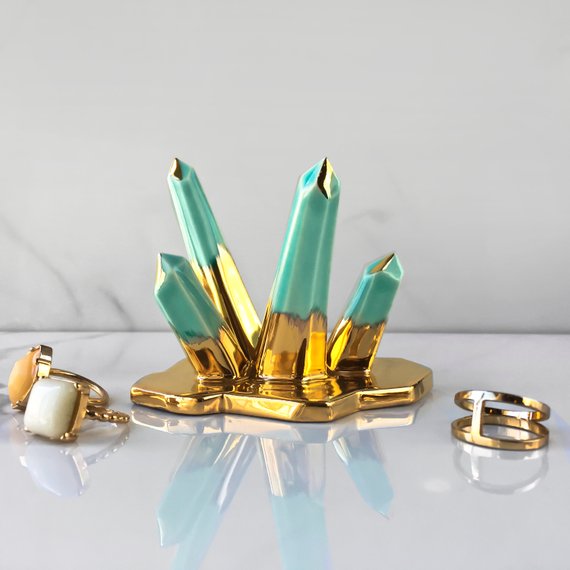 Aquamarine crystals reach out from a 22kt painted base to hold your rings of this ceramic ring holder.
By Modern Mud on Etsy, $98