Emily Kuvin Jewelry Design – The First Day of Christmas
Emily Kuvin's iconic "Kapow" star forms dazzle us from her Stella collection.
From top to bottom:
Gold Stellina Necklace, set with 0.25ct center oval white diamond, surrounded with a dusting of smaller white diamonds is spectacular, and dresses from casual to formal with ease. 14kt yellow gold, and the star measures 3/4", and has three adjustable length settings on the chain – 15"/16.5"/18" $2250
Gold Stella Necklace, set with Poppy Passion Topaz, and 0.06ct white diamonds. The Stella star measures 1", and has the same adjustable chain lengths as the Stellina Necklace, 14kt matte yellow gold, $1680Mini Stella Stud Earrings With Multi Stones These earrings are adorable renditions of their larger organic star necklaces, but sprinkled with multi gemstones. 14kt matte yellow gold, 0.10ct total weight of gemstones, and measure 1/2" wide, $680
To learn more about Emily Kuvin and her jewelry journey, listen to Episode 26: Emily Kuvin and Her Jewelry Designs Are Shining Stars
on the Jewelry Navigator Podcast!
Hania Kuzbari Jewelry Designs – The Second Day of Christmas Jewelry
Horse Shoe Candy Necklace
This delicious necklace is set with 4.02 ct total weight of pink and green tourmalines, and 0.1ct diamonds. Created with a combination of 14kt gold and sterling silver, the horse shoe hangs from a double stranded 14kt and sterling silver chain, $1286.
To purchase the Horse Shoe Candy Necklace, click on the photo of the necklace!

Hania Kuzbari created a collection of horse shoe jewelry, including necklaces and keychains.
Russell Trusso Fine Jewelry – The 3rd Day of Christmas
Russell made these Tahitian pearl earrings more alluring by embedding 0.45ct total diamond weight into the pearls. They are set on 18kt yellow gold posts, and are $2500.
To purchase the earrings, click on the square with the earrings!
Blue Tahitian Pearl Earrings Embedded With Diamonds
These earrings are like wearing a party in your ears!
Russell Trusso's journey to an award-winning jewelry designer is as colorful as his jewelry.
In his former career, he was a doctor at Cleveland Clinic as a top neuro anesthesiologist.
In the 1970's, he designed couture clothing.
After dedicating his focus to jewelry design, he was nominated for New Fine Jewelry Designer by the Council of Fashion Designers of America.
Russell is influenced by nature, which is evident in the creations he presents of flowers created entirely from gemstone material.
His color combination and choice of gemstones is impeccable for the variety of jewelry creations he presents.
Russell recently opened a boutique in Cleveland at 530 Eucid Avenue, Suite 9.
Hugo Kohl Jewelry – The Fourth Day of Christmas
Sterling Silver Money Clip
Handmade in sterling silver, in the U.S., this money clip makes a beautiful gift for our gentlemen, or anyone who likes to carry their cash in style! Prices range from $114-$210.
Hugo Kohl is a jeweler and jewelry historian who rescued tools used in the beginning stages of America's jewelry industry in Providence, Rhode Island.
Today, he uses the dies and machines, along with others he's collected over the years to make jewelry just like they did in the 1700's.

The dies, tools and machines Hugo reclaimed are featured in the Museum Of American Jewelry Design and Manufacturing beside his shop and boutique, many of which he still uses to make Hugo Kohl Jewelry.
The museum is open to tours by Hugo and his staff.

To learn more about Hugo Kohl and his jewelry adventures, listen to Episode 16 of the Jewelry Navigator Podcast, Episode 16 America's Vintage Jewelry Legacy with Hugo Kohl of Hugo Kohl Jewelry
You can visit and shop Hugo Kohl Jewelry from his website, and at his boutique in Harrisonburg, VA. (click on either image above to be directed to the Hugo Kohl Jewelry website.)
On the Fifth Day of Christmas…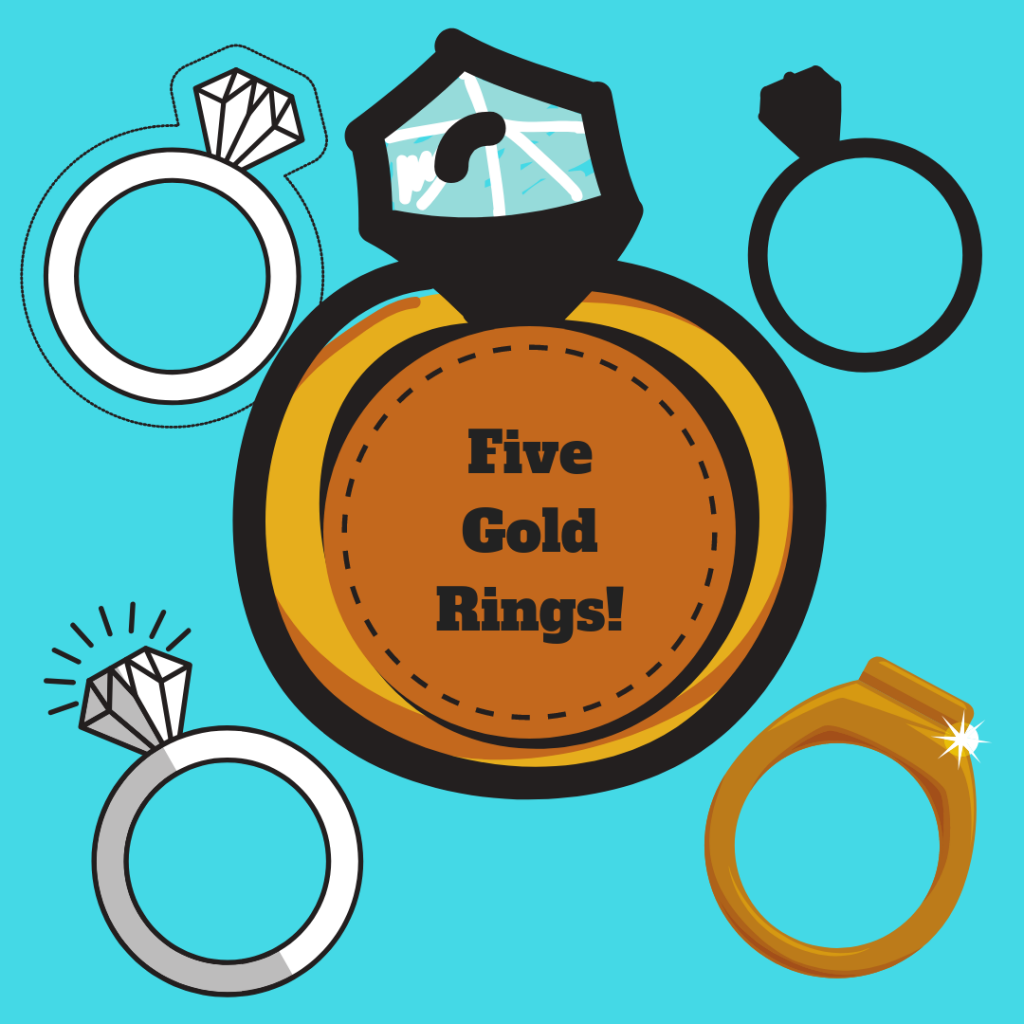 To shop for or check out the rings in the Five Gold Rings feature above, click on the coordinating photo in the gallery above, or the highlighted text below in the descriptions.
Kirsten Paniccoli Fiesta Rings in 18kt yellow gold, set with your choice of trillion shape Pink tourmaline, yellow beryl, tanzanite, aquamarine, or green tourmaline. Contact designer for orders and inquiries.
California Girl Jewelry I specifically chose this ring to celebrate the holidays with its rich, green stone, which is a 4.11ct. tsavorite garnet, set in 18kt yellow gold, accented with eight emerald cut yellow sapphires, weithing 2.20ct total. Retail $26,600; Limited Time, $19,699 (*California Girl Jewelry is a mother-daughter fine jewelry business in San Francisco. They make exceptional jewelry with rare and unusual gemstones.)
Tai Vautier is an artisan jeweler based in Portland, Oregon. She has a shop on Etsy filled with her signature organic designs, set with brilliant gemstones. The ring featured above is sterling silver and gold, set with a hexagon shaped garnet, and accented with bezel set diamonds. $795. Her jewelry and designs are captivating, and make perfect self purchase gifts, or gifts for another, if you're willing to part with them!
Julie Lamb Fine Jewelry The 14kt rose gold Diamond Power Charm Ring, makes a powerful, but feminine and fun statement with a bezel set, custom cut, raspberry rhodolite garnet and 0.18ct diamonds This ring is filled with super powers, and perfect for any super hero girl or woman! $1795
Gigi Ferrante Regalo Signet Ring, set with a 0.90ct pear shape purple sapphire, and accented with 0.31ct G-H, VS – SI1 diamonds. This ring makes a strong but elegant statement. $2600
MINTON – The Sixth Day of Christmas
Bent Ring Framework An open version of Bent Ring. Available in sterling silver, yellow and rose gold plated, black rhodium plate, 14kt white, yellow, and rose gold. Prices start at $420.
I AM UNSTOPPABLE Necklace Make a statement with a MINTON signature necklace. Customized options available. I AM UNSTOPPABLE Necklace available in sterling silver, yellow and rose gold plated, black rhodium plate, 14kt white, yellow, and rose gold. Prices start at $280
Full time architect by day, jewelry designer by night and weekends, Emily Minton merges design elements between jewelry and architecture in her eponymous jewelry line, Minton.
Although minimalistic by design, MINTON jewelry makes a classic statement with an modern edge.
Gallery Byzantium – The Seventh Day of Christmas
The jewelry items picutred above were featured in an Instagram post on Gallery Byzantium's Instagram page. I felt they represent a cross section of their jewelry.
From left to right:
Alexander the Great Coin Pendant Available in 10kt and 14kt yellow gold; prices start at $990.
Greek Filigree Cross With Emerald 14kt yellow gold, set with a genuine emerald, measures 2″ x 1 7/8″ $4050
Jeweled Byzantine Cross Solid 14kt or 10kt Gold set with Jade, Garnet, Tiger Eye, Carnelian and Lapis Measures 1″ wide by 1 1/8″ high; $427.50 – $504.
Celestial Fire Pendant™ 18kt yellow gold, enamel, with diamonds; $4500
I've always been intrigued by the posts on Instagram by Gallery Byzantium, and felt like Christmas was the perfect time to share their beautiful jewelry.
As described on their website, "Where Treasures of the Past Become Heirlooms of the Future, Gallery Byzantium is located in the charming historical coastal New England town of Ipswich, Massachusetts, Gallery Byzantium is a small family (husband and wife) owned business that designs and handcrafts heirloom quality jewelry in the ancient Christian, Byzantine, Celtic, and Russian historical aesthetic tradition. All of our jewelry is handcrafted and designed in the United States of America of nickel free recycled gold and silver. Gallery Byzantium designs are exclusive and one of a kind. Absolute satisfaction is always guaranteed."
– Gallery Byzantium
Nayla Shami Jewelry – The Eighth Day of Christmas
Antique Marble Gem Necklaces
Each antique marble is entwined in a gem cage.
From left to right: Blue marble is set with smokey quartz; Yellow marble is set with emeralds; Green marble set with yellow sapphires.
Each marble is on a 16'' chain, and each is $1400.
To order, and for color availability, contact Nayla Shami Jewelry.
Using a palette of colorful gems set in 18kt yellow gold and sterling silver, Nayla Shami celebrates life and nature with her unique jewelry designs.

While birds, flowers, and animals are central themes for many of her designs, Nayla adds versatility to her collections with a series of jeweled medals, antique marbles encaged in gems, and organic bracelets.
Wade and Willow Hand Forged Jewelry
"Goliath" Labradorite Ring This beautiful ring earns its name with its centerpiece stone! The ring is a size 8 1/2, but can be sized. All Wade and Willow jewelry is delivered with a polishing cloth. $330
Wade and Willow Hand Forged Jewelry was founded by Kiara Boughner. An avid rock hound and gem fanatic, Kiara has created a niche specific to unique styles inspired by designs that are eclectic, yet include themes celebrating nature with a classic flair.
To learn more about Kiara and her jewelry, listen to the Jewelry Navigaot Podcast, Episode 17 The Eclectic Story and Designs of Wade and Willow Hand Forged Jewelry with Kiara Boughner
CRASH Jewelry – The Tenth Day of Christmas
                                                                                      -photo CRASH Jewelry
Echo Fordite Cuff Links "Fordite", also known as "Detroit Agate", is not truly a stone – it's the layered accumulation of dried auto paint that's used as a stone when it's polished down and shaped into smaller pieces used in jewelry.
The cufflinks are sterling silver, and are 20mm in diameter. $162 Sale price, $97.20
CRASH Jewelry is made from luxury car parts in Los Angeles by Christi Schimpke.
None of the parts were involved in accidents resulting in injury – only minor lot damages and scratches.
To learn more about CRASH Jewelry, listen to Jewelry Navigator Podcast, Episode 4 Q & A With Crash Jewelry Founder Christi Schimpke.
Alison Nagasue – The Eleventh Day of Christmas
                                                                                       -photo Alison Nagasue
Bypass Ring with Gold Gingko and Diamond Band 18kt green gold, set with 0.21 ct diamonds, the bypass complements the feminine flow of the gingko leaves. $2375
Alison Nagasue is a talented jewelry artist whose Gingko Glow Collection was inspired by her love of Japanese culture, and their reverence for the ancient tree.
It is specutlated that the gingko tree species has survived for 200 million years, which adds to the intriguing characteristics of the tree and its leaves.
Paul Michael Jewelry – The Twelfth Day of Christmas
-ring photo by Paul Michael Jewelry
The Square Fold Ring. 14kt white gold ring, cleverly designed, and set with 0.40ct of diamonds, and 0.60 ct of natural blue sapphires.
Customizations are welcome with stone and metal combinations. $1795
Paul Bierker is founder of Paul Michael Design, and Geek Jewelry.
His unique designs seem to be limitless and without boundaries.
His studio is in Pittsburgh, PA, so if you're lucky enough to live near the steel city, stop by for fresh ideas for under your tree this Christmas, like the Square Fold Ring!